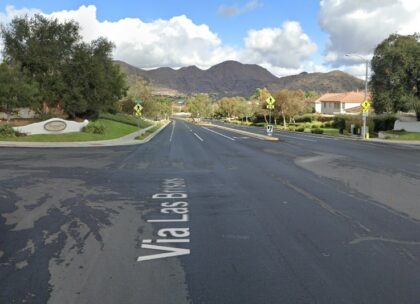 Three teenage boys riding an electric motorcycle were hospitalized with severe injuries following a head-on collision with a sport utility vehicle in Thousand Oaks on Monday, February 27, 2023.
The collision happened just before 6:00 p.m. at the intersection of Via Las Brisas and Via Grande.
According to Thousand Oaks Police Chief Jeremy Paris, the off-road motorcycle collided with the front end of the small Mercedes SUV.
According to Paris, the three teenagers, who are 14, 15, and 16, were ejected from the motorcycle. Before the three were taken by ambulance to Los Robles Regional Medical Center, emergency personnel attended to their needs at the scene.
Paris stated that despite the teens' broken bones and blunt force trauma injuries, he thought they would survive.
Paris stated the damage was severe.
He claimed that all three were wearing helmets.
He claimed there was no indication the SUV's 47-year-old driver was intoxicated when she pulled over, cooperated with police, and stopped. Paris reported the 47-year-old driver wasn't injured.

Motorcycle Accident Statistics
The National Safety Council found that motorcycle riders accounted for 14% of all traffic fatalities, 18% of all occupant deaths, and 4% of all occupant injuries in 2020. Motorcyclists made up less than 3% of all motorist registrations and drove less than 0.6% of all vehicle miles. Potential lives could have been saved if victims had been wearing helmets at the time of these accidents.
The death toll rose by 11% between 2019 and 2020, and the death rate per 100,000,000 kilometers traveled increased by 23%. The death toll and death rate increased by about 20% and 27%, respectively, over a ten-year period. Presently, 5,579 lives are lost for every 100,000,000 kilometers traveled.
About 785 thousand motorcycles called California home in the year 2020. With roughly 500 deaths per year, the state is one of the two worst in the US for motorcyclists. Six percent of these fatalities can be traced back to the victim not wearing a helmet.
What Should I Do After an Accident?
The police must be notified immediately of any traffic collision that results in serious injury or death. Don't make assumptions; stick to the facts while answering questions. Although they had no part in what happened, the victim may nonetheless feel obligated to apologize. Insurance companies may cite such actions as grounds for denying a claim.
Get a copy of the report from the division in charge of the probe. Or complete our online form and we will collect it for you. Once we have all the necessary details, we can begin working on your claim. For free, we'll assess the merits of your claim.
Ventura County Motorcycle Accident Lawyers
California families of wounded or deceased motorcyclists who believe they have a case should seek legal counsel without delay. To get financial compensation for one's suffering after being injured or losing a loved one due to the negligence of another, one may file a personal injury or wrongful death case. When you have questions regarding submitting a claim, one of our highly regarded lawyers is here to help.
Our award-winning Ventura County motorcycle accident lawyers at Arash Law, led by Arash Khorsandi, Esq., have extensive experience advocating for accident victims. Our clients have been awarded compensation totaling $400 million.
Contact (888) 488-1391 or click the "Do I Have a Case?" on our website to schedule a free consultation with one of our lawyers.