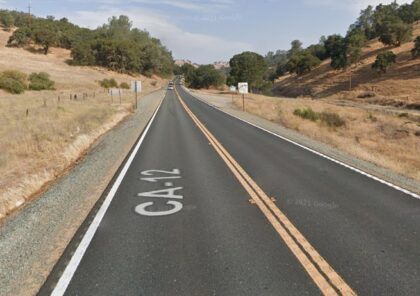 Authorities reported a multi-vehicle collision that resulted in minor injuries in Calaveras County on Tuesday, February 28, 2023.
According to the California Highway Patrol, the three-vehicle pileup occurred along Highway 12 near Central Hill Road, just outside the census-designated place of San Andreas.
The collision happened among three unidentified vehicles. The number of people involved is unclear at this point, but minor injuries were reported. No updates on the victims' current states were immediately available.
The circumstances leading to the crash remain under investigation by the authorities, including whether speeding or intoxication played a role.
CHP officials urged motorists to be extra careful as the winter weather meant hazardous driving conditions that could lead to crashes due to reckless drivers.

Multi-Vehicle Accident Statistics
The majority of accidental fatalities and serious injuries in the United States occur as a result of car accidents. Worldwide, more than ten million people are hurt and more than two million people are killed every year as a result of traffic accidents.
The National Safety Council reported that in 2020, the number of traffic fatalities due to avoidable circumstances had increased by 8.3% after three-consecutive years of a downward trend. It is estimated that 39,107 persons lost their lives in automobile accidents in 2019 in the United States. By the year 2020, the figure had climbed to 42,338.
In the year 2020, 3,847 people lost their lives in car crashes in the state of California. Of the total number of fatalities, 1,587 (41%) were caused by wrecks involving two or more vehicles, while 2,260 (59%) were the result of single-vehicle accidents.
What to Do After a Car Accident
If you or a family member have been in an automobile crash, call the police immediately. Stick to the facts and avoid forming assumptions while talking with police enforcement or insurance companies. Even though they did nothing wrong, the victims may nonetheless apologize. The insurance company may cite the claimant's conduct as grounds for the denial of a claim.
Get in touch with the authorities that handled the case to get a copy of the report. This website also features a simple online form that you can fill out for your convenience. As soon as we have access to the report, we will begin working on your request. Let one of our highly-rated attorneys review your insurance claim at no cost to you.
Car Accident Lawyers in Calaveras County
We offer free consultations to anyone who has been hurt or lost a loved one in an automobile accident and believes they may have a case for personal injury or wrongful death. Get in contact with us if you need answers or would like to see an attorney before submitting an insurance claim.
Our trusted Calaveras County car accident lawyers at Arash Law, led by Arash Khorsandi Esq., have the recognition and vast experience to advocate for accident victims, with awarded compensation totaling $400 million as of yet. Contact (888) 488-1391 or click the "Do I Have a Case?" on our website to schedule a free consultation with one of our lawyers.