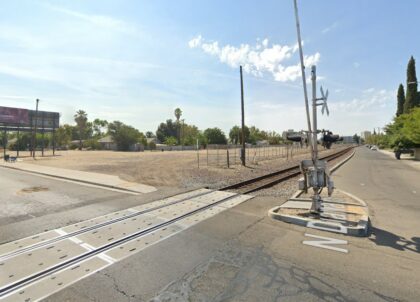 According to the Fresno Police Department, a man was killed after being hit by a train in Southwest Fresno on Tuesday, February 28, 2023.
According to police, the crash occurred around 9:30 p.m. just east of Diana Street.
One of the train's conductors called the railroad company to report that a pedestrian had been hit by the southbound train.
At the intersection of Diana Street and McKenzie Avenue, police showed up three minutes later. They found a dead man on the tracks five minutes after they arrived.
According to the authorities, a witness reported seeing the man strolling along Diana Street toward the track.
The police say it's unclear whether the man saw the approaching train.
While the police are conducting their investigation, Mckenzie Avenue will be closed in that area east of Diana Street.

Fatal Train Accident Statistics
The National Transportation Safety Board statistics indicate that pedestrians are more likely to die in train accidents than in automobile accidents. Several train accidents can be attributed to defective crossings, outdated or missing safety equipment, and insufficient warning systems.
Trains collide with cars or people every two hours. Over a thousand people die in train accidents every year. A total of 2,300 people were injured, and 600 people were killed.
Trains are one of the most efficient modes of transportation. A conductor's ability to repair and frequency of repairs contribute to passenger and employee safety. Recklessness and inadequate shortcuts endanger passengers.
U.S. train accidents have resulted in the deaths of nearly 7,200 people since 1997. On American railroads, collisions with pedestrians account for more than half of all train-related deaths.
Derailments, worn-out tracks, disregard for safety requirements, inadequate security, and other forms of negligence are the most common causes of railway accidents.
How Do I Obtain a Police Report After an Accident
Understandably, this is a difficult time for you. Our team can assist with obtaining a police report. Our team will contact the appropriate people and collect the report for you. After that, you can begin the claims process and seek compensation for your injuries.
Our team will handle all the details, including filing the claim, so you won't need to worry. Additionally, we will ensure that the responsible party's insurance company pays all your medical bills.
Feel free to reach out to us if you have any questions about how to proceed after an accident.
Fresno County Train Accident Lawyers
Most people have used the metro or another form of public transportation at some point in their lives. Although this mode of transportation is relatively safe and efficient, accidents can still occur.
Train accidents carry a lower risk of injury or death than other modes of transportation, but they are still possible. An injured passenger or a loved one may be entitled to compensation following a train accident.
As part of our legal process, we will contact your insurance company to ensure that all accident-related expenses, including medical care, lost wages, and pain and suffering will be compensated.
Our Fresno train accident lawyers at Arash Law, led by Arash Khorsandi, Esq., have considerable experience representing victims of train accidents. Our team will pursue compensation on your behalf while you focus on your recovery.
To arrange a no-obligation consultation, call (888) 488-1391 or go to our website's "Do I Have A Case?" link.