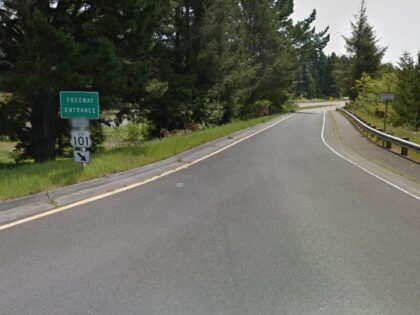 A man and a 9-year-old child were injured in a single-vehicle rollover crash near Loleta on Tuesday afternoon, February 28, 2023.
According to the California Highway Patrol, the solo-car crash occurred at around 2:36 p.m. on Highway 101 near Loleta Drive in Humboldt County.
What caused the crash is still being investigated, but the report stated a small Dodge pickup rolled off the road several times before ending up roughly 30 feet from the highway.
The unidentified man sustained head injuries while the 9-year-old kid complained of neck and head pain. The responders requested an ambulance but the occupants reportedly chose not to go.
One lane of the highway was shut down as the tow truck attempted to recover the pickup. As of 2:48 pm, the area's traffic flowed without any problems.

Single-Vehicle Accident Statistics
Automobile accidents are the major cause of both unintentional nonfatal and fatal injuries sustained in the United States. In addition, some ten million people are injured and two million die each year due to motor vehicle accidents globally.
The National Safety Council reported an increase in preventable highway fatalities during the year 2020. After three years of reduction, the 8.3% spike in mortality was surprising. In 2019, there were 39,107 people killed in automobile accidents in the United States. By the year 2020, it had increased to 42,338.
There were 3,847 fatalities in California car accidents in the same year. One-vehicle accidents accounted for 59% (2,260) of all fatalities, while those involving multiple vehicles accounted for 41% (1,587).
What to Do After a Car Accident
Immediately notifying the authorities is crucial after a car accident. Avoid making any assumptions and stick to the facts when communicating with law enforcement or your insurance provider. Apologies may be extended by innocent victims even though they are not at fault. Such behavior can be used as evidence against a claim by the insurer.
Just requesting a copy of the report from the appropriate parties will get it to you. In order to better serve you, we have made an online form available on this page. As soon as we get the report, we'll get started on your request. No matter how big or small your insurance claim is, you can be assured that it will be reviewed free of charge.
Car Accident Lawyers in Humboldt County
Auto accident victims who believe they may have a personal injury or wrongful death case should call us immediately to schedule a free consultation with one of our well-respected lawyers. If you have any concerns or would like legal counsel in submitting an insurance claim, please get in contact with us.
Our trusted Humboldt County car accident lawyers at Arash Law, led by Arash Khorsandi Esq., have the recognition and vast experience to advocate for accident victims, with awarded compensation totaling $400 million as of yet. Contact (888) 488-1391 or click the "Do I Have a Case?" on our website to schedule a free consultation with one of our lawyers.