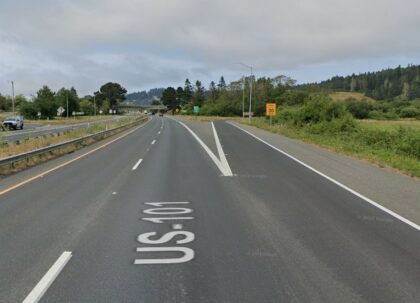 At least two people were injured following a multi-vehicle collision in Humboldt County on Tuesday afternoon, February 28, 2023.
According to the California Highway Patrol, the crash occurred on the southbound lanes of Highway 101 near the Tompkins Hill Road exit.
The circumstances leading to the crash and the total number of vehicles involved are unknown, but multiple cars reportedly spun out on the road, resulting in traffic collisions.
The number of people involved and the extent of possible injuries are also unclear, but an ambulance was requested and two people reportedly sustained moderate injuries.
The authorities rerouted the southbound traffic through Tompkins Hill Road as the clearing operation ensued.
No further information is available as the investigation continues.

Multi-Vehicle Accident Statistics
For both injured people and those who tragically lost their lives, automotive accidents are a leading cause of accidental tragedy in the United States. Furthermore, approximately ten million people are injured and two million people are killed annually due to motor vehicle accidents worldwide.
According to the National Safety Council, the number of avoidable traffic deaths increased in 2020. It was surprising to see an 8.3% increase in mortality after three years of decline. There were 39,107 fatalities in the United States due to autos in 2019. The number climbed to 42,338 the next year.
In the same year, 3,847 persons lost their lives in car accidents in California. Two or more car accidents accounted for 1,587 deaths (or 41%), while single-vehicle accidents accounted for 2,260 (or 59%) of all fatalities.
What to Do After a Car Accident
When a car accident occurs, it is imperative that the authorities be alerted right away. When interacting with authorities or an insurance company, it is vital to provide only factual information and avoid making any assumptions. Some victims may apologize even though they're not at fault. The insurer may reject a claim using such behavior as evidence.
If you want a copy of the report, all you have to do is ask the department that handled the case. There is also an online form available on our site for your use. We'll go to work on your request as soon as we receive the report. All insurance claims, no matter how big or small, will be reviewed at no cost to you.
Car Accident Lawyers in Humboldt County
If you or a loved one has been hurt in an auto accident and you think you may have a personal injury or wrongful death case, please contact us right away to book a free consultation with one of our highly renowned attorneys. Feel free to get in touch with us if you have any questions or need assistance filing an insurance claim with the help of an attorney.
Our trusted Humboldt County car accident lawyers at Arash Law, led by Arash Khorsandi Esq., have the recognition and vast experience to advocate for accident victims, with awarded compensation totaling $400 million as of yet. Contact (888) 488-1391 or click the "Do I Have a Case?" on our website to schedule a free consultation with one of our lawyers.