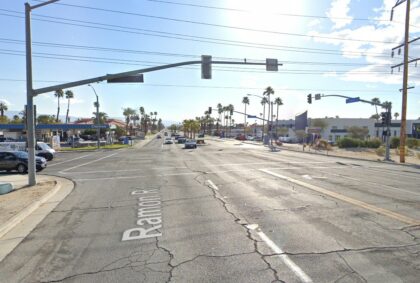 Two people were sent to the hospital after a rollover collision involving two vehicles in Cathedral City on Tuesday, February 28, 2023.
The crash occurred at around 9:30 a.m. on Landau Blvd. and Ramon Rd. in Cathedral City.
According to firefighters, the wreck cut a cable, which resulted in a power outage in the neighborhood. At the scene, Edison was working to restart the power.
An electric vehicle was one of the cars involved in the collision.
The collision remains under investigation.

Two-Vehicle Crash Statistics
Injuries cause a disproportionate number of hospital admissions. Nearly two million people are hurt each year in automobile accidents in the United States.
A disproportionate number of these accidents take place in California. Each year, automobile accidents in the United States injure over two hundred thousand people.
The county of Riverside is large, the fourth largest in California. It's one of the riskiest regions in the country for motorists.
There were 2,119 people injured or killed due to car accidents in Riverside in 2017. These collisions happened on city streets like Jurupa Avenue and freeways like the 60, 91, and 215 freeways.
Accidents like these are often caused by drivers who are intoxicated, distracted, or going too fast.
The fact that these disasters could have been prevented only adds insult to injury. Around 80% of collisions in the United States can be attributed to drivers who were distracted in some way.
What Should I Do After an Accident?
When you are involved in a car accident, you must contact the proper authorities immediately. Provide a clear answer to the question being asked, and don't make assumptions. Sometimes victims feel guilty for not apologizing, even if they had no part in causing the problem. The insurance company may use such behavior as justification for not paying out on a claim.
You can request a copy of the report from the relevant authorities. Please fill out the form below so that we may submit your request. We'll jump on your case as soon as we get the report. Right now is a great time to get a free review of your insurance claim.
Riverside County Car Accident Lawyers
After a car accident in California, victims and their loved ones often decide to pursue legal action. While the causes of many car accidents are the same, it takes a law firm with experience in auto accident cases to properly investigate the details of each case and win fair compensation for the victims.
Not even the strongest people can handle the unexpected death of a loved one. If a loved one dies due to the negligence of another, their family may file a lawsuit for wrongful death and seek financial compensation.
The survivors of a fatal accident can file a wrongful death suit to recover damages for their economic losses, mental anguish, and grief over the deceased loved one.
Having legal representation is crucial after a fatal car accident. Our Riverside County car accident lawyers are ready to advocate tirelessly on your behalf and fight for the compensation you deserve. We'll take care of defending your rights while you focus on recovery.
You can speak with one of our attorneys at no cost by calling (888) 488-1391 or filling out our online intake form.