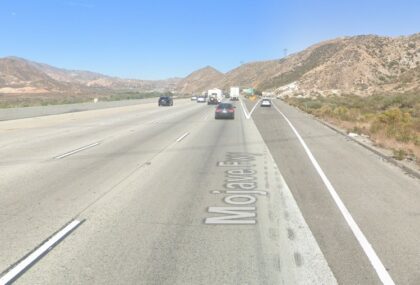 One person was hospitalized after a two-vehicle rollover accident on Interstate 15 on Tuesday, February 28, 2023.
The California Highway Patrol and San Bernardino Fire Department received calls about a collision at around 1:24 p.m. on the northbound I-15 just before the Cleghorn Road exit.
The CHP traffic log listed the involved vehicle as a white GMC Yukon that had sustained significant front-end damage and had rolled onto its roof.
A white Honda HR-V with minor front-end damage was the second car. The two right lanes were blocked by both vehicles.
Both vehicles were upside down when rescue crews arrived. Rescue workers asked for one ambulance to be sent to the scene.
One person who had non-life-threatening injuries was transported. After roughly 30 minutes, all lanes were reopened.
At one point, traffic was backed up all the way to the Kenwood Ave exit.
The Inland Office of the California Highway Patrol will be looking into this incident.

Two-Vehicle Crash Statistics
According to reports, California saw a total of 3,847 traffic-related deaths in 2020. 2,260 deaths involved single-vehicle crashes (59% of all traffic deaths) and 1,587 deaths involved multiple vehicles (41% of all traffic deaths). 1,378 deaths were car occupants (36%), 674 were pickup and SUV occupants (18%), 25 were large truck occupants (1%), 539 were motorcyclists (14%), 986 were pedestrians (26%), and 129 were bicyclists (3%).
According to another report, deaths due to collisions between motor vehicles accounted for 41% of all motor vehicle-related deaths in 2020 in the United States. Although this is less than half of the total, this crash type accounted for 77% of injuries, 71% of injury crashes, and 72% of all incidents. Angle collisions caused the most fatalities and injuries, with roughly 8,000 in 2020.
Having at least one car accident in your lifetime is almost certain if you drive in California. Maintaining a safe distance from the vehicle in front of you is an important part of defensive driving, as is maintaining constant vigilance and doing routine vehicle checks.
What Should I Do After an Accident?
It is essential to report a car crash to the proper authorities immediately. It's crucial to be as factual as possible and avoid forming any assumptions while answering questions from the police or the insurer. Victims often feel obligated to apologize, even when they did nothing wrong. The insurer might cite such behavior as grounds for a claim denial.
Please contact the relevant authority in order to obtain a copy of the report. You can also fill out our online form. We will start working on your case as soon as we receive the report. One of our skilled attorneys will analyze your insurance claim at no cost and with no obligation on your behalf.
San Bernardino County Car Accident Lawyers
Call our legal firm immediately to schedule a no-cost consultation with one of our well-respected lawyers if you or a loved one has been wounded in a car accident and you want to submit a claim for personal injury or wrongful death. If you need help submitting an insurance claim, please don't hesitate to get in touch with our knowledgeable legal team.
Our trusted San Bernardino County car accident lawyers at Arash Law, headed by Arash Khorsandi Esq., have the recognition, vast experience, and expertise to advocate for accident victims. Our clients have been awarded compensation totaling $400 million as of yet.
Contact (888) 488-1391 or click the "Do I Have a Case?" on our website to schedule a free consultation with one of our lawyers.