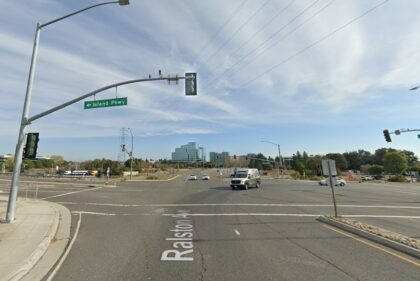 Minor injuries were reported following a two-vehicle collision in Belmont, San Mateo County, on Tuesday morning, February 28, 2023.
According to the San Mateo County Police Department, the crash occurred at about 11:20 a.m. at the Ralston Avenue and Island Parkway intersection.
The circumstances that led to the collision are currently unknown, but it reportedly involved a gray Mercedes and an unspecified white car.
The number of people involved and the extent of the injuries are unclear, but minor injuries were reported as a result of the crash.
The investigation into the crash continues, including determining whether speeding, alcohol, or drugs played a role.

Two-Vehicle Accident Statistics
Motor vehicle accidents account for the vast majority of accidental fatalities and injuries in the USA. In addition, about ten million people are injured and two million people are killed each year as a result of automobile accidents all over the world.
The reported number of Americans killed in traffic accidents increased by 8.3 percent in 2020, despite a three-year reduction, according to the National Safety Council. In 2019, there have been 39,107 fatalities attributed to automobile accidents. There were 42,338 of them in 2020, an increase from the year before.
There were 3,847 fatal car accidents in California that year in 2020. More than half (59%) of the fatalities (2,260) involved a single-vehicle incident, while 41% (1,587 deaths) involved two or more cars.
What to Do After a Car Accident
If you or a loved one have been in a car accident, dial 911 immediately. You must always be completely honest and never make any assumptions while communicating with authorities or insurance companies. While they are innocent, some victims may try to apologize. The insurance company can decide not to pay out if the victim maintains acting this way.
Making a formal request to the authorities can get you a copy of the final report. If you need to get in touch with us right away, please fill out the short online form on this page. We will immediately begin processing your request. Our highly recognized attorney is ready for a no-cost consultation if you have questions about getting the most out of your claim.
Car Accident Lawyers in San Mateo County
If you or a loved one has been hurt in a car crash, please contact our highly renowned local personal injury and wrongful death attorneys for a free consultation. Contact us if you have any inquiries about the claims process or if you would like to schedule a consultation with one of our attorneys.
Our trusted San Mateo County car accident lawyers at Arash Law, led by Arash Khorsandi Esq., have the recognition and vast experience to advocate for accident victims, with awarded compensation totaling $400 million as of yet. Contact (888) 488-1391 or click the "Do I Have a Case?" on our website to schedule a free consultation with one of our lawyers.