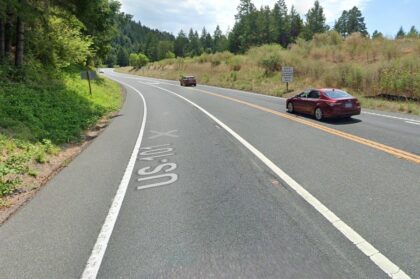 A big rig collision forced road closures and injured one person in Mendocino County on Wednesday morning, March 1, 2023.
According to reports, the crash transpired around 10:40 a.m. on Highway 101 south of Leggett near the Highway 271 onramp.
Authorities confirmed that a big rig and a silver pickup collided, blocking Highway 101.
Due to the impact, the big rig, which had an empty trailer, sustained front-end damage. The silver Chevy pickup is said to have significant right-side damage. Tow trucks have been requested for both vehicles.
Responders confirmed that one of the occupants involved incurred minor injuries.
The northbound lanes are completely blocked, but the southbound lanes are only partially blocked.
The circumstances leading to the collision are under investigation.

Big Rig Collision Statistics
According to the US Department of Transportation, nearly 4,000 tractor-trailer accidents were fatal in 2015.
There was an alarming 22% increase in fatalities in semi-truck collisions between 2009 and 2015. Traffic fatalities involving tractor-trailers accounted for one out of ten deaths in 2015.
Commercial trucks, also known as "big rigs," are standard on American highways. Big rigs, 18-wheelers, tractor-trailers, and semi-trailers are all used to describe these trucks.
Highway crashes involving large trucks are among the most deadly on American roads. Tractor-trailer and passenger car size disparities frequently result in more fatalities in big rig accidents than in other traffic collisions.
When investigating 18-wheeler accidents, several factors need to be taken into account.
Accidents involving large trucks are typically caused by loss of control, tire blowouts, incapacitating or non-capacitating vehicle failures, excessive speed, lane drifting, and improper truck maneuvering.
What Should I Do Following an Accident
As soon as you have collected information, it is wise to file a police report, provided it is safe to do so. This allows the police to store information about what occurred during the accident on a central database. This information is then kept on file within the police department, ensuring it is always safeguarded.
In any case, the police will often attend the scene of an accident. If they do not, you can contact your local police department by telephone or in person to file an accident report. Therefore, if the police are off the collision scene, they will gather that information and write a police report afterward.
Truck Accident Lawyers in Mendocino County
Accidents involving trucks are frequently fatal. Taking on such a case yourself can be difficult; therefore, hiring a truck accident lawyer is recommended.
As professionals, truck drivers must comply with all laws and regulations. Usually, they are responsible for collisions involving their massive vehicles. A catastrophic accident may lead to a lawsuit against the responsible party.
Contact our Mendocino County truck accident lawyers at Arash Law, led by Arash Khorsandi, Esq., if you've been hurt or suffered severe injuries from a similar accident. With the assistance of our legal experts, you can obtain just compensation for your injuries.
Given their extensive training and experience, they can help you achieve the best possible result.
Call us at (888) 488-1391 or fill out our "Do I Have A Case?" form on our website to learn more about your legal options.