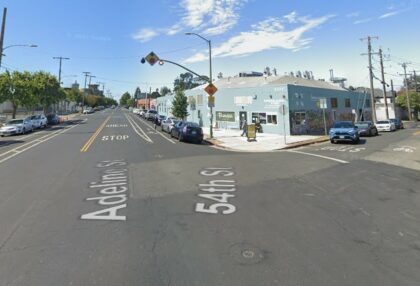 A woman was injured and sent to the hospital after being hit by a vehicle that fled the scene in Oakland on Thursday afternoon, March 02, 2023.
According to the Oakland Police Department, the hit-and-run collision occurred a few blocks from a children's hospital at the intersection of 54th Street and Adeline Street.
Surveillance footage captured Ciana L., the pedestrian, getting struck by a white truck while crossing the street in a marked crosswalk and with stop signs in all directions. She then struggled to get up as a good samaritan jumped out of their vehicle to assist her.
Medical professionals determined the victim had a severe contusion on her lower back. Despite not sustaining any major physical injuries, she was reportedly still in shock and was having trouble processing the event.
No further details on the driver that fled the scene were available. Anyone with information is encouraged to contact the Oakland Police as the search continues.

Hit-and-Run Accident Statistics
Leaving the scene of an accident without providing aid to the injured or contacting authorities is a crime in the United States. Drivers who cause accidents and then flee the scene face legal consequences, including imprisonment.
The National Highway Traffic Safety Administration reported that in 2015, there were 737,100 hit-and-run accidents in the United States. This information suggested that there was a hit-and-run in the United States every 43 seconds. In 2016, 2,049 persons were killed as a result of hit-and-run accidents, setting a new record.
Between 2010 and 2019, there were 3,056 fatalities in 2,948 hit-and-run accidents in California. Death tolls from such incidents are disproportionately high in California.
What to Do After a Hit-and-Run Accident
Call the authorities immediately if you or a loved one are involved in an accident caused by a driver who fled the scene. Provide a straightforward answer when talking to the police or the insurance company; never assume anything. Some innocent victims may feel compelled to apologize. This could cause the insurance company to refuse to make a payout.
The victim can get a copy of the report by contacting the appropriate authorities. In addition, you can fill out the online form on this page. We will get started on your request as soon as we receive the report. One of our reputed lawyers, the best in the country, will analyze your insurance claim at no charge to you.
Hit-and-Run Accident Victim Lawyers in Alameda County
In California, victims of hit-and-run accidents can either make a claim on their insurance or take legal action. If you or a loved one has been seriously hurt or killed due to someone else's negligence, please don't hesitate to get in touch with one of our highly regarded attorneys.
Our trusted Alameda County hit-and-run accident victim lawyers at Arash Law, led by Arash Khorsandi Esq., have experience and accolades advocating for accident victims, with awarded compensation totaling $400 million. Call (888) 488-1391 now or click the "Do I Have a Case?" on our website to set up a free consultation with one of our attorneys.