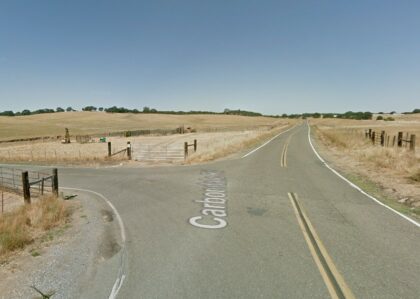 Three people, two of them minors, were killed in a single-vehicle crash in Amador County on Thursday afternoon, March 02, 2023.
The California Highway Patrol reported that the solo car crash occurred at about 2:00 p.m. near Carbondale Road and Irish Hill Road, southwest of Plymouth.
The area is about 35 miles southeast of Sacramento, north of Ione. The circumstances leading to the crash are still unclear, but the unspecified vehicle reportedly went off the road and slammed into a tree.
One of the deceased victims was an adult man, while the other two are children. No further details on their age and identities were released.
There is currently no other information available as the investigation continues.

Fatal Single-Vehicle Accident Statistics
The majority of accidental deaths and serious injuries in the United States occur as a result of car accidents. In addition, about ten million people are injured and over two million people are killed as a result of traffic accidents each year worldwide.
The National Safety Council reported that in 2020, traffic fatalities reversed a three-consecutive-year of a downward trend with an increase of 8.3%. There were 39,107 fatalities caused by automobile accidents in the United States in 2019. By the year 2020, the figure had increased to 42,338.
Also in 2020, 3,847 people lost their lives in car accidents in the Golden State of California. Of the total number of fatalities, 1,587 (41%) were caused by wrecks involving two or more vehicles, while 2,260 (59%) were the result of single-vehicle accidents.
What to Do After a Car Accident
Get in touch with the authorities right once if you or a loved one has been involved in a car accident. When communicating with law enforcement or an insurance company, it's important to remain factual and not make any assumptions. The victims might offer apologies even though they did nothing wrong. The claimant's actions may be used as a justification for the insurance company to reject the claim.
Reach out to the relevant authorities in order to obtain a copy of the report. For your convenience, this site also provides a short online form for you to complete. We will start on your request as soon as we obtain access to the report. The strength of your insurance claim will be evaluated for free by one of our top-notch attorneys.
Car Accident Lawyers in Amador County
We offer free consultations to anyone who has been hurt or lost a loved one in an automobile accident and believes they may have a case for personal injury or wrongful death. Before submitting an insurance claim, please get in touch if you have any questions or would want to talk with an attorney.
Our trusted Amador County car accident lawyers at Arash Law, led by Arash Khorsandi Esq., have the recognition and vast experience to advocate for accident victims, with awarded compensation totaling $400 million as of yet. Contact (888) 488-1391 or click the "Do I Have a Case?" on our website to schedule a free consultation with one of our lawyers.