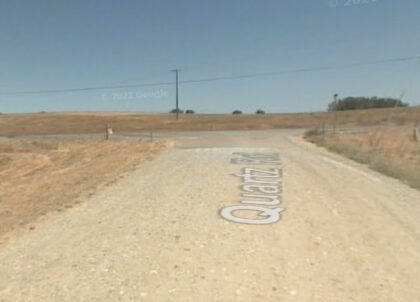 A nine-year-old boy was seriously injured in a single-motor vehicle crash in Burson, Calaveras County, on Thursday afternoon, March 02, 2023.
According to the Calaveras Consolidated Firefighters, the solo rollover crash occurred on Quartz Road, between Highway 12 and Camanche Parkway South, near the Camanche Reservoir.
The circumstances that led to the crash remain unclear at this point, but a golf cart operated by two young boys reportedly rolled over.
One of the unidentified minors, a 9-year-old, sustained a serious head injury. He was taken to UC Davis Medical Center via air ambulance in an unknown condition.
The other boy's age and relationship with the victim are currently unknown. No further information was available as the investigation continued.

Car Accident Statistics
More people died in collisions in which they were not wearing seat belts, were traveling too fast, or were under the influence of alcohol, as reported by the National Safety Council in 2020.
The 8.3% increase in fatalities in the United States that occurred in 2020 followed three consecutive years of decline. The number of people killed in automobile accidents increased to 42,338 in 2020 from 39,107 in 2019.
About 4.8 million people in 2020 went to the emergency room after being harmed in an automobile crash. Injuries sustained in motor vehicle collisions were calculated to cost a staggering $473.2 billion. Lost pay and productivity, medical costs, administrative fees, car repairs, and employer costs are all factors.
What to Do After a Car Accident
If you or a loved one are ever in a car crash, call the authorities immediately. Always be truthful and never assume anything while dealing with the authorities or an insurance company. Those who are victims of an occurrence may apologize even if they played no role in causing it. The insurance company could decide to reject the claim as a result of this.
The victim can get a copy of the report by contacting the relevant authorities. In addition, this site provides an online form you can fill out. The report will be received shortly, and then we will get to work on your request. Your insurance claim will be reviewed by some of the best attorneys in the country at no extra cost to you.
Car Accident Lawyers in Calaveras County
If you or a loved one have been hurt or killed in a car accident and believe you may have a case for personal injury or wrongful death, please feel free to contact us for a free consultation. Please don't hesitate to contact us if you have any questions or would like to consult with an attorney before making an insurance claim.
Our trusted Calaveras County car accident lawyers at Arash Law, led by Arash Khorsandi Esq., have the recognition and vast experience to advocate for accident victims, with awarded compensation totaling $400 million as of yet. Contact (888) 488-1391 or click the "Do I Have a Case?" on our website to schedule a free consultation with one of our lawyers.