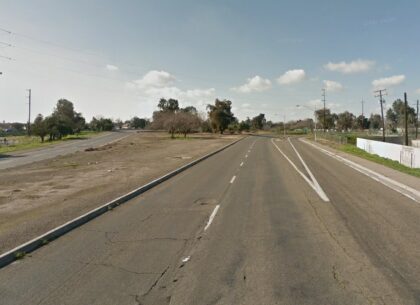 A pedestrian collision claimed a woman's life in southwest Fresno on Thursday, March 2, 2023.
The fatal crash occurred around 3:30 p.m. near Highway 99 and Golden State Avenue.
Authorities were notified of calls that a vehicle had struck a pedestrian.
Paramedics arrived at the scene and pronounced that the victim had died.
Meanwhile, the driver remained and cooperated with investigators.
No evidence of drug or alcohol abuse has been found.
The crash's cause has yet to be determined.

Fatal Pedestrian Collision Statistics
As the Governors Highway Safety Association reported, 7,485 pedestrians died from road traffic accidents in 2021, the highest number in 40 years.
As of 2020, pedestrian fatalities were caused by speeding 8.6% higher than in 2019. Speed plays a crucial role in pedestrian safety. At 23 mph, pedestrians are at an increased risk of death by 10%. At 58 mph, the risk increases to 90%.
Accidents involving pedestrians often result in tragic outcomes. Pedestrians would likely suffer severe injuries in a collision between two vehicles.
Pedestrian accidents are the most common cause of injuries and deaths on American roads. Accidents involving pedestrians have historically been the most dangerous.
While walking, pedestrians should always stay on the sidewalks, avoid drinking alcohol or using drugs, and cross parking lots and driveways cautiously. These guidelines reduce the chances of them being injured in such collisions.
What Should I Do After an Accident?
Make sure law enforcement arrives on the scene and files a report. During an interview at the location of the accident, be truthful about what you saw and experienced. Do not make assumptions about things you do not understand when speaking. Anxiety and shock may make victims apologize profusely after an accident, even if they did not cause it. Insurance companies may construe this act of kindness as evidence that you admitted guilt to avoid paying for a claim.
California's high traffic accident rate has caused injuries to pedestrians, cyclists, and vehicle passengers. Our experienced lawyers are ready to assist you regardless of whether you were in a vehicle during the accident.
Our team will pursue the money you are entitled to under the law while you focus on recovering. Our team will keep you informed at every stage.
Award-Winning Pedestrian Accident Lawyers in Fresno
Crosswalks are only sometimes necessary, but pedestrian safety should always be prioritized. When pedestrians are involved in an accident, they always have the right of way. A person who appears to have violated the law may be questioned.
Knowing what to do after filing an insurance claim can be challenging. Choosing our firm will ensure that your lawsuit will be handled successfully.
A compensation payment provided by the responsible party or their insurer may assist you in alleviating your financial burden. It is best to seek the advice of a competent attorney who can assist you in navigating the complex legal system.
In every case, our Fresno pedestrian accident lawyers at Arash Law, headed by Arash Khorsandi, Esq., are committed to putting the client's needs first. We strive to return you to normal activities as soon as possible after a life-threatening injury.
To learn more about your legal options, call us at (888) 488-1391 or through the website's "Do I Have A Case?" link.