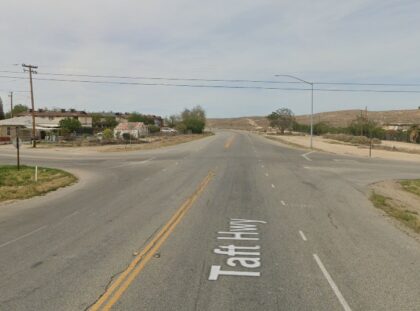 A big rig collision resulted in two drivers sustaining injuries in Kern County early Thursday morning, March 2, 2023.
Reports indicated the crash transpired around 6:00 a.m. on Highway 119 between Midway Road and Harrison Street.
According to authorities, a semi pulling a 40-foot box trailer and a sedan collided, causing the car to overturn and catch fire on the east side of the road.
The truck ended up on the west side of the road, blocking the northbound lanes.
Firefighters rushed to the scene and confirmed that the drivers were the only people in the vehicles. Both motorists received minor injuries.
The road between Midway Road and Harrison remains closed while the crash is investigated and the scene is cleared.

Big Rig Collision Statistics
A US Department of Transportation report states that nearly 4,000 tractor-trailer accidents occurred in 2015.
The number of fatalities in semi-truck collisions increased by a startling 22% between 2009 and 2015. Tractor trailers were involved in one out of every ten traffic fatalities in 2015.
The American highways are frequently congested with big rigs, also known as commercial trucks. Big rigs, 18-wheelers, tractor-trailers, and semi-tractors are all used to describe this type of truck.
Some collisions involving large trucks are very deadly on American highways. Big rig accidents are more likely to result in fatalities than other traffic collisions due to the vast size difference between tractor-trailers and passenger cars.
Several factors must be taken into account when investigating 18-wheeler accidents. Truck accidents are usually caused by lost control, tire blowouts, incapacitating or incapacitating vehicle failures, speeding, drifting, improper maneuvering, and tired drivers.
After an accident, How Do I Get a Police Report?
A police report can be obtained from the local police department where the accident occurred. You can obtain your report from the police department by providing them with the necessary information. We can provide you with a record if you are unable to obtain one from the local authorities. Our online form can be used for this purpose.
Upon receiving your report request, we will begin the claims process on your behalf. Our team will work with you until we obtain all the necessary documentation and information.
Trusted Truck Accident Lawyers in Taft
Accidents involving trucks are frequently fatal. Hiring a truck accident lawyer is recommended since you may find it challenging to pursue such a case alone.
A truck driver is required to follow all laws and regulations as a professional. Their massive vehicles are usually responsible for collisions involving other vehicles.
Victims may file a lawsuit against the responsible party when a catastrophic accident occurs.
Our Taft truck accident attorneys at Arash Law, headed by Arash Khorsandi, Esq., can help you if you've been injured in a similar accident. You can obtain a fair settlement for your injuries with the help of our legal experts.
Their extensive experience and training will guarantee that you will have the best possible outcome.
Contact us at (888) 488-1391 or fill out the "Do I Have A Case?" website link to learn more about your legal options.