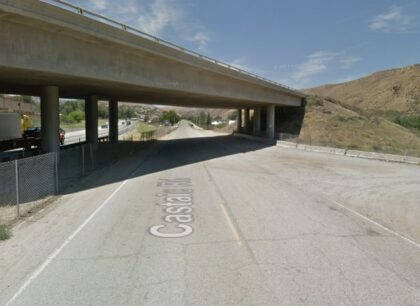 A 65-year-old pedestrian from Bakersfield was killed after being struck by a vehicle near Castaic in Los Angeles County on Thursday night, March 02, 2023.
According to the California Highway Patrol Newhall Office, the fatal crash occurred at about 8:55 p.m. on Castaic Road, just south of the Interstate 5 southbound overcrossing.
The elderly pedestrian was reportedly walking on the road's east shoulder heading north while a 2017 Audi A4 driven by a 60-year-old Tujunga resident was also traveling northbound on the same road.
For reasons still unknown, the pedestrian tried to cross the southbound lane by entering the northbound lane and into the path of the Audi. The pedestrian was struck by the car's left front, leading them to crash through the front windshield.
Responders from the Los Angeles County Fire Department assisted both parties, who sustained major injuries and were sent to Henry Mayo Newhall Hospital in two separate ambulances. The pedestrian was later declared dead.
No further details on their identities and the driver's current state were immediately available as the investigation continued. There was no indication that alcohol or drugs played a role.

Pedestrian Accident Statistics
Data published by the Governors Highway Safety Association shows a 14% decrease in fatalities due to automobile accidents between 2007 and 2016. Yet, the share of fatalities that involved pedestrians rose by 27% during the same time frame. Statistics like these imply that street walking in the United States is growing more dangerous.
There were 5,977 reported pedestrian fatalities in the United States in 2016. Around 88 people were losing their lives per minute by the end of that year. In 2017, around 137 thousand pedestrians were treated in hospitals after suffering injuries.
In California in 2012, there were about 14,000 pedestrian injuries and 893 pedestrian deaths. It has been determined that this is a leading cause of death and injury among California pedestrians.
What to Do After a Pedestrian Accident
If you or a loved one has been in a pedestrian collision, you must contact the police immediately. It is crucial to be honest and not make any assumptions when corresponding with law enforcement or an insurance company.
Even if they had nothing to do with what happened, victims may nonetheless apologize. This behavior may result in a claim being denied by the insurer.
Reach out to the appropriate departments to request a copy of the report. Here you will also find an online form that you can fill out. As soon as we have access to the report, we will immediately begin working on your request. One of our top attorneys will look over your insurance claim at no extra charge.
Pedestrian Accident Lawyers in Los Angeles County
In the case of an accident, pedestrians in California have the same protections as drivers, bikers, and passengers. If you or a loved one were hurt in a car crash that wasn't your fault, you might be able to file a personal injury or wrongful death case against the responsible party.
Our trusted Los Angeles County pedestrian accident lawyers at Arash Law, led by Arash Khorsandi, Esq., have extensive experience and accolades advocating for accident victims. Our clients have been awarded compensation totaling $400 million.
Call (888) 488-1391 now or click the "Do I Have a Case?" on our website to set up a free consultation with one of our attorneys.