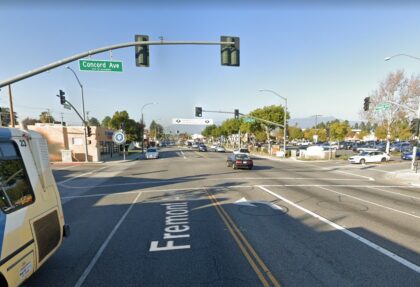 Three people were injured and sent to the hospital after a single-vehicle crash in Alhambra on Thursday morning, March 02, 2023.
According to Alhambra Fire and Police who responded, the crash occurred early morning at about 3:00 a.m. at the intersection of Concord and South Fremont avenues.
The exact circumstances leading to the crash are unclear at this point, but the unspecified vehicle reportedly collided with the side of a PetSmart building and came to rest on the side of the road, totally destroyed.
The impact ejected one occupant into the roadway, while two others were trapped and had to be extricated by the responding officers. All three people were sent to the hospital in uncertain conditions.
No further information was immediately available as the investigation into the crash continued.

Single-Vehicle Accident Statistics
Automobile accidents are the major cause of both unintentional fatal and seriously injured accidents in the United States. More than ten million people are injured and two million are killed annually as a result of traffic accidents worldwide.
After three years of reduction, the National Safety Council reports that preventable roadway deaths in the United States climbed by 8.3% in 2020. There were 39,107 fatalities in the United States due to automobile accidents in 2019. By the year 2020, that figure had increased to 42,338.
A total of 3,847 people were killed in automobile accidents in California in 2020. More than half, or 2,260 (59%), of the fatalities occurred in incidents involving a single vehicle, while 41%, or 1,587, were caused by collisions involving two or more vehicles.
What to Do After a Car Accident
In the event that you or a loved one have been involved in a car accident, it is imperative that you promptly report the incident to the authorities. Always tell the truth and don't make any assumptions while dealing with the law or an insurance company. Some of the unfortunate victims may feel they have no choice but to apologize. If a claimant acts in this manner, the insurance company may have second thoughts about paying out and decide to reject the claim.
Get in touch with the relevant division to request a copy of the report. Also, a convenient online contact form is provided for your use on this page. Once we receive the report, we will immediately begin working on your request. One of our highly renowned attorneys will analyze your insurance claim at no additional cost to you.
Car Accident Lawyers in Los Angeles County
We offer free consultations with our highly recognized attorneys to anyone who has been hurt or lost a loved one in a vehicle accident and believes they may have a case for personal injury or wrongful death. Before making an insurance claim, please feel free to contact us if you have any questions or want to talk with an attorney.
Our trusted Los Angeles County car accident lawyers at Arash Law, led by Arash Khorsandi Esq., have the recognition and vast experience to advocate for accident victims, with awarded compensation totaling $400 million as of yet. Contact (888) 488-1391 or click the "Do I Have a Case?" on our website to schedule a free consultation with one of our lawyers.