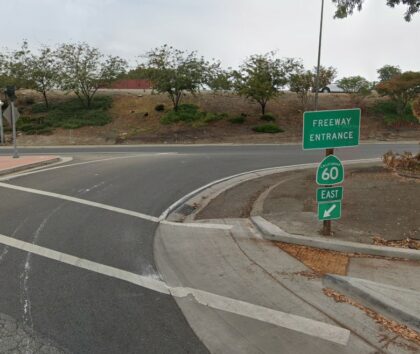 Two people sustained injuries in a multi-vehicle collision on Moreno Valley (60) Freeway in Riverside County on Thursday morning, March 02, 2023.
The California Highway Patrol reported that the three-vehicle crash occurred around 10:15 a.m. on the eastbound 60 Freeway east of Timothy Lane between the cities of Beaumont and Moreno Valley.
Three vehicles were reportedly involved in the chain collision: a BMW hatchback, Dodge Ram 1500 pickup, and a Ford pickup. Though the investigation continues, it may have likely started when the Ford pickup rear-ended the BMW.
Responders from the Riverside County Fire Department arrived afterward and located two motorists who sustained moderate injuries. They were transported to Riverside University Medical Center in Moreno Valley. The number of people involved is unknown.
The crash caused both eastbound lanes to be shut down, and an hour later, at least one lane was still closed as the clearing of wreckage continued.
There were no other details available right away while the authorities looked further into the collision.

Multi-Vehicle Accident Statistics
Vehicle collisions account for the vast majority of accidental deaths and serious injuries in the United States. Every year, road accidents cause over ten million injuries and over two million deaths worldwide.
According to the National Safety Council, unnecessary deaths on American roadways increased by 8.3 percent in 2020, reversing a three-year downward trend. In 2019, there were 39,107 people killed in car accidents across the United States. The number had risen to 42,338 by 2020.
There were 3,847 fatalities due to car accidents in the Golden State of California in 2020. 59%, or 2,260, of the fatalities were the result of single-vehicle accidents, while 41%, or 1,587, were the result of multiple-vehicle crashes, involving two or more cars.
What to Do After a Car Accident
It is crucial to notify the authorities as soon as possible if you or a loved one have been involved in an automobile accident. Whether you have to deal with the law or an insurance company, always state the truth and don't make any assumptions. The unlucky victims may feel compelled to apologize even though they're not at fault. The insurance company may have second thoughts about paying out if the claimant behaves in this way.
To obtain a copy of the report, please contact the appropriate department. This website also features a handy online contact form for your convenience. We will get started on your request as soon as we receive the report. Your insurance claim will be reviewed by one of our well-known attorneys at no extra cost to you.
Car Accident Lawyers in Riverside County
Anybody who has been injured or lost a loved one in a car accident and thinks they may have a case for personal injury or wrongful death is welcome to schedule a free
consultation with our highly regarded attorneys. Please get in touch if you have any questions or would like to speak with an attorney before filing an insurance claim.
Our trusted Riverside County car accident lawyers at Arash Law, led by Arash Khorsandi Esq., have the recognition and vast experience to advocate for accident victims, with awarded compensation totaling $400 million as of yet. Contact (888) 488-1391 or click the "Do I Have a Case?" on our website to schedule a free consultation with one of our lawyers.