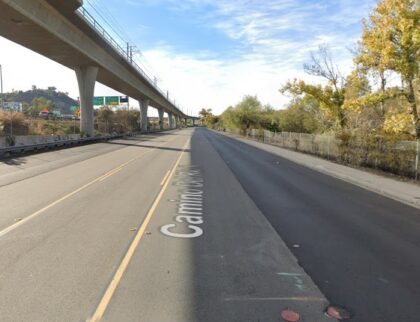 A two-vehicle collision left a 95-year-old man severely injured in Mission Valley, San Diego County, on Thursday night, March 2, 2023.
Reports confirmed the crash transpired around 11:22 p.m. at 4200 Camino Del Rio N, near Interstate 8.
Authorities stated that the 95-year-old man drove a 1988 Toyota pickup westbound when he crossed the dividing line and collided head-on with a 77-year-old woman driving a 2019 Honda SUV eastbound.
Paramedics were immediately called and rushed the victim to the hospital with life-threatening injuries.
The victim had multiple fractures.
Meanwhile, the female Honda driver complained of chest pain. It was unclear whether she was hospitalized.
Authorities are investigating the circumstances of the collision.
Those with information about the crash are asked to call Crime Stoppers at 888-580-8477 or 858-495-7800.

Two-Vehicle Collision Statistics
The Fatality Analysis Reporting System estimates that 38,824 road accidents occurred in the United States in 2020, resulting in 35,766 deaths. 11.7 deaths per 100,000 people or 1.34 fatalities per 100 million kilometers traveled.
Around 20 to 50 million people worldwide suffer from injuries or disabilities caused by accidents. Traffic accidents kill an estimated 3,287 people in the United States each day.
California has a high rate of unintended traffic accidents, resulting in over 10,000 deaths yearly. This figure illustrates the severity of the situation.
There are thousands of automobiles on the road every day. You can avoid incidents like these by driving sober, using a child safety seat and seat belt, increasing visibility, and using good headlights and road illumination.
How Do I Request a Police Report After an Accident
You can request a police report about this accident from the local police department. A copy of your report will be available from the police department as soon as you contact them. You may request a report form from us if you cannot obtain one from the police department. Fill out our online form to do so.
Upon receiving your request for a copy of your report, we will begin the claims process for you with no money upfront. Once we obtain all the required information and documentation about your claim, we will work with you until the process is complete.
Car Accident Lawyers in San Diego County
Recovery from catastrophic incidents may require additional time and effort. It is possible that they will struggle to find work and will spend some time drowning in medical debt.
It can be challenging to file an insurance claim. As a client of our firm, you can be assured that your lawsuit will be handled efficiently and effectively.
In such cases, you have the option of suing the responsible party or their insurance company to reduce your financial burden. Hiring a lawyer who understands the complex legal system and can help you win the case is the best solution to any potential legal issues.
Our San Diego County car accident lawyers at Arash Law, headed by Arash Khorsandi, Esq., ensure that all of our clients' needs are met. Count on us to speed up the process so you can return to your daily routine as soon as possible.
You can reach our attorneys by calling (888) 488-1391 or through our website's "Do I Have A Case?" link.