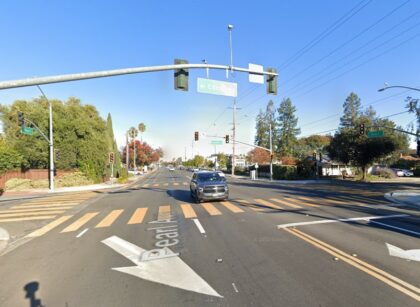 A pedestrian crash led to one person sustaining severe injuries in San Jose on Thursday morning, March 2, 2023.
According to reports, the collision transpired around 11:30 a.m. near Pearl Avenue and Edenbury Lane.
Authorities were notified of a pedestrian struck by a vehicle in the area.
When responders arrived, they immediately rushed the victim to the hospital with life-threatening injuries.
Meanwhile, the driver stayed on site and cooperated with the investigations.
Further details on the circumstances of the crash are currently underway.

Pedestrian Accident Statistics
Pedestrian fatalities were associated with speed by 8.6% in 2020, up from 7.2% in 2010. Pedestrian safety is affected significantly by speed. When a vehicle reaches 58 mph, the death rate rises to 90%. As the vehicle's speed increases, the death rate also gradually rises.
The Governors Highway Safety Association reports that pedestrian deaths reached an all-time high in 2021, with 7,485 deaths.
Pedestrians were killed in the United States in 2016 at a rate of 5,937. Since the beginning of the year, 88 people have died every minute. In the preceding year, at least 137,000 pedestrians were injured.
California is estimated to have the highest number of pedestrian fatalities and accidents in the country. There were approximately 14,000 pedestrian injuries in 2012, resulting in 893 deaths.
When crossing parking lots and driveways, pedestrians are advised to exercise extreme caution. On the sidewalks, they must stay off drugs and alcohol, and they must stay on the sidewalks. Following these rules can help you reduce your chances of being hurt in an accident.
What Should You Do After an Accident Occurred
Ensure that law enforcement personnel file a report at the collision scene. Tell the truth if you are interviewed at the location of the accident about what you saw and experienced. Be careful with your words, and don't assume anything when you don't understand. As a result of anxiety and shock, victims often apologize profusely following an accident, even when they did not cause it. The insurance company may be able to interpret this act of kindness as evidence that you admitted fault to avoid paying out on the claim.
California's high traffic accident rate has caused injuries to pedestrians, cyclists, and vehicle passengers. Our experienced attorneys can assist you regardless of whether you were in a vehicle during the accident. Our team will pursue the money you're owed under the law while you focus on getting well, and we'll keep you updated throughout the process.
Reliable Pedestrian Accident Attorneys in San Jose
Crosswalks are not always required, but pedestrian safety always comes first. Pedestrians always take precedence in accidents. Upon committing a legal offense, the person responsible will be questioned.
Victims' families can file wrongful death lawsuits to recover damages for their losses. As damages, economic and psychological costs associated with the death of a victim may be considered.
You can rely on our San Jose pedestrian accident attorneys at Arash Law, led by Arash Khorsandi, Esq., who are prepared to vigorously advocate for our client's rights to the compensation they require and deserve.
Road accidents can be reduced by making drivers more accountable. To schedule a no-obligation consultation with an experienced lawyer, contact us at (888) 488-1391 or use our website's "Do I Have A Case?" form.