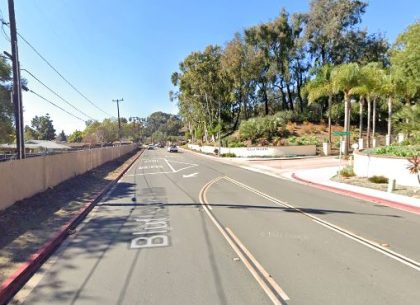 An unidentified 54-year-old woman was injured in a hit-and-run accident while walking down the main street in Pacific Beach on Thursday, March 3, 2022.
The hit-and-run accident occurred around 11:00 p.m. between Bluffside and Damon avenues.
According to the San Diego Police Department, the pedestrian was walking along the curb line when an older, dark-colored sedan drifted to the right and struck her with its passenger mirror before driving away south on Mission Bay Drive.
According to police, the woman broke her arm. The police are looking for the hit-and-run suspect.
There are no other details available. The crash remains under investigation.

Hit-and-Run Accident Statistics
Getting into a car accident because of another driver's carelessness is something no one looks forward to. Even if the other driver does not pull over, the situation will only worsen unless they accept responsibility and offer assistance.
A hit-and-run driver is one who flees the scene of the accident without reporting it. In 2016, hit-and-run accidents claimed the lives of 2,049 people in the United States. Every year, the United States experiences 682,000 hit-and-runs. Pedestrians are frequently the victims of hit-and-runs.
Pedestrians have no means of protecting themselves from other people's negligence, which is a major factor in many accidents.
Drivers may flee the scene of an accident for a number of reasons. Undocumented, uninsured, or otherwise in an unsafe situation may be more likely to engage in drunk driving.
San Diego County Hit-and-Run Accident Lawyer for Victims of Hit-and-Run Crash
When a driver runs over you or a loved one, it is imperative that you contact a hit-and-run accident lawyer as soon as possible. Your California hit-and-run lawyer will not charge you anything unless and until he or she has successfully recovered the compensation to which you are entitled.
For medical expenses, lost wages, mental anguish, as well as physical discomfort, victims of accidents can sue for damages.
You can count on our San Diego County hit-and-run accident lawyers at Arash Law to help you get the money you deserve for your suffering. Offices in major California cities like Los Angeles and Sacramento can be found all over the state. As well as San Francisco and Riverside, we have additional locations.
If it is more convenient for you to meet with us at your place of business or elsewhere in the state of California, we are happy to do so. Contact us at (888) 488-1391 or fill out the form below to get started.