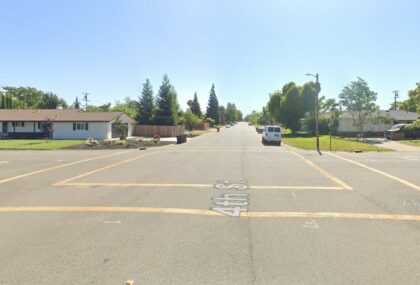 One person was hospitalized following a hit-and-run crash in central Bakersfield on Friday afternoon, March 03, 2023.
According to the Bakersfield Police Department, the fatal crash occurred around 1:23 p.m. at the 4th and N streets intersection.
What led to the collision is still being looked into, but one person was transported into an ambulance away from the scene. There is no other information on the victim's identity and current state.
The police believed the driver involved fled the scene, leading to an active law enforcement presence in the area as the search ensued.
Anyone with information is encouraged to contact the authorities.

Hit-and-Run Accident Statistics
In the United States, it is against the law to flee the scene of a car accident without rendering aid to the injured and notifying the authorities. There are legal repercussions, including jail time, for drivers who cause accidents and then abandon the scene.
According to statistics compiled by the National Highway Traffic Safety Administration, there were 737,100 hit-and-run incidents in the United States in 2015. Based on this data, it appears that every 43 seconds, there is a hit-and-run in the United States. The number of people killed in hit-and-run accidents rose to a record high of 2,049 in 2016.
California experienced 3,056 fatalities in 2,948 hit-and-run events between 2010 and 2019. The Golden State has a disproportionately high number of fatalities from these occurrences compared to other states.
What to Do After a Hit-and-Run Accident
If you or a loved one are ever in a hit-and-run accident, don't hesitate to call the authorities. When dealing with law enforcement or an insurance company, it is imperative that you always provide accurate information and avoid making assumptions. Even if they had nothing to do with what happened, victims might apologize. The insurance company may reject the claim as a result of this conduct.
The victim can obtain a copy of the report by getting in touch with the relevant authorities. You can also fill out the online form on our site. We will start processing your request as soon as we have access to the report. Your insurance claim will be reviewed at no additional cost by one of our best attorneys.
Hit-and-Run Accident Victim Lawyers in Kern County
When someone is harmed in a hit-and-run in California, they have the option of filing an insurance claim or going to court to seek compensation. Don't hesitate to get in contact with one of our well-respected lawyers if you or a loved one has suffered serious injuries or lost a life due to the carelessness of another person.
Our trusted Kern County hit-and-run accident victim lawyers at Arash Law, led by Arash Khorsandi Esq., have experience and accolades advocating for accident victims, with awarded compensation totaling $400 million. Call (888) 488-1391 now or click the "Do I Have a Case?" on our website to set up a free consultation with one of our attorneys.