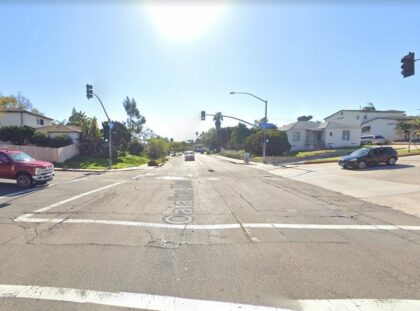 A hit-and-run collision left a 17-year-old injured in San Diego on Friday night, March 3, 2023.
Reports indicated the crash transpired around 6:28 p.m. at Catalina Boulevard and Narragansett Avenue.
According to authorities, the teen had a green light and was yielding to northbound traffic on Catalina Boulevard when he was rear-ended by an unknown vehicle while turning eastbound on Narragansett Avenue.
The vehicle did not stop and continued southbound on Catalina Boulevard.
Paramedics were called to the scene and rushed the victim to the hospital with a pelvic fracture.
Those with information about the incident are urged to contact the listed command or Crime Stoppers at 888-580-8477.

Hit-And-Run Collision Statistics
As per the AAA Foundation for Traffic Safety, 680,000 Americans are injured or killed annually in hit-and-run accidents. Recent statistics indicate that hit-and-run accidents are becoming more common. Pedestrian fatalities from these mishaps accounted for 24% of all pedestrian deaths in 2020.
Research shows California has the highest pedestrian fatalities and serious injuries. California recorded over 14,000 pedestrian injuries and 893 pedestrian deaths in 2012.
A hit-and-run occurs when one vehicle collides with another, and the driver flees the scene without helping the injured victim.
The most common cause of pedestrian injuries is distracted driving. Drivers may converse with passengers, adjusting the radio, or talk on the phone while driving. Multitasking makes it easier to miss someone crossing the street.
It is recommended that pedestrians wear bright clothing to avoid injury. Additionally, it would help if you crossed the street only when an oncoming vehicle was visible.
What To Do Following an Accident
We can assist you in obtaining a police report after an accident.
We only need to know what happened and where it happened. We will then contact the appropriate parties to gather all necessary information.
Our team handles this process for each client so that you don't have to worry about insurance coverage – we will ensure it's covered!
Reliable Pedestrian Accident Attorneys in San Diego
One's outlook on life gradually changes after the death of a loved one. Other businesses, such as insurance companies, may also contact you to discuss matters relating to the accident. If you intend to take legal action, consult an attorney.
The surviving relatives of the deceased must file a wrongful death lawsuit during this period. People who have lost a loved one unexpectedly may be entitled to compensation for their financial losses, emotional distress, and physical suffering.
You can rely on our San Diego hit-and-run attorneys at Arash Law, headed by Arash Khorsandi, Esq., to fight for the compensation you deserve if you have been injured in a hit-and-run accident. Clients can focus uninterrupted on improving their health or mourning their losses.
To schedule an initial meeting with one of our attorneys, contact (888) 488-1391 or click on our website's "Do I Have a Case?" link to discuss your legal options.