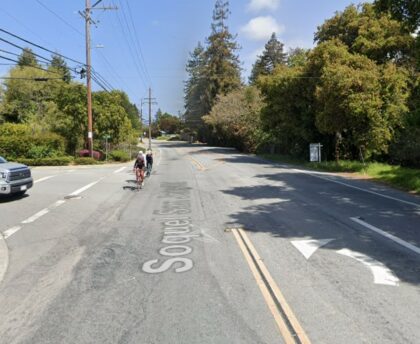 Two people were injured following a two-vehicle crash involving a DUI driver near Soquel in Santa Cruz County on Friday morning, March 03, 2023.
According to the California Highway Patrol, the collision occurred at about 8:19 a.m. on Soquel San Jose Road at Hilltop Road, just north of Soquel.
31-year-old Soquel resident Keller S. was traveling southbound on Soquel San Jose Road on a 1997 Toyota with a 28-year-old woman from Ben Lomond at an unidentified speed.
The Toyota then veered into the northbound lane and drove to the right before crashing into a 1995 Honda driven by a 56-year-old Soquel man traveling ahead of them. The Toyota then continued west before smashing into a tree.
The unidentified female passenger of the Toyota had serious injuries and was transported to Valley Medical Center by air ambulance in unknown condition. The Honda driver was reportedly unharmed.
The Toyota driver was detained for driving under the influence and possession of a controlled substance and two firearms. He was placed under arrest at Dominican Hospital with minor wounds.

DUI Accident Statistics
Drunk driving was a factor in 10,142 traffic-related deaths in the United States in 2019. There were 949 fatalities in California in that same year, with a DUI fatality rate of 2.4 per 100,000, compared to 3.1 nationally.
Drunk driving was a factor in 28.1% of all fatalities in the United States and 26.3% of fatalities in California that year.
A second government assessment found that, despite a reduction in fatalities, injuries, and accidents attributed to drunk driving since the 1980s, there are still too many intoxicated drivers on the road causing problems today.
In the state of California, if your blood alcohol content is 0.08 or more, you will be subject to arrest. Drunk drivers endanger everyone else on the road, including pedestrians and other motorists, due to their impaired judgment.
What to Do After a DUI Accident
Call the police immediately if you or a loved one are involved in a DUI accident. If you need to deal with law enforcement or an insurance company, you must always tell the truth and never make any assumptions. Victims can express regret for an event even if they had nothing to do with bringing it about. Because of this, the insurance company may elect not to pay up on the claim.
A copy of the report can be obtained by the victim by contacting the appropriate authorities. In addition, you may fill out the online form on this page. We will go to work on your request as soon as we receive the report. You can have some of the greatest lawyers in the country go through your insurance claim for free.
DUI Accident Lawyers for Victims in Santa Cruz County
If you or a loved one are hurt by a drunk driver in California, you can file a lawsuit against the driver for financial compensation. We urge you to get in touch with us immediately if you or a loved one has been injured and you need help settling a claim with an insurance provider.
Our trusted Santa Cruz County drunk driving accident victim lawyers at Arash Law, led by Arash Khorsandi, Esq., have extensive experience advocating for accident victims, with awarded compensation totaling $400 million.
Call (888) 488-1391 now or click the "Do I Have a Case?" on our website to set up a free consultation with one of our attorneys.