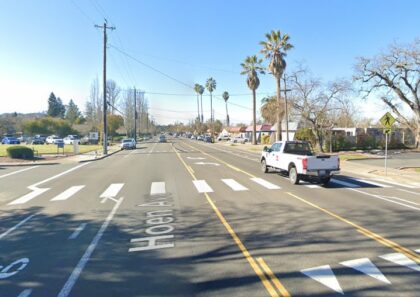 A 19-year-old woman was hospitalized in critical condition with life-threatening injuries after being struck by a vehicle in east Santa Rosa on Friday night, March 03, 2023.
The Santa Rosa Police Department reported that the crash occurred at around 6:28 p.m. at the corner of Hoen Avenue and Sierra Creek Lane.
The female pedestrian was struck by a white Honda Civic traveling west on Hoen Avenue. The investigation is ongoing to ascertain the vehicle's speed and whether the woman was in the crosswalk.
The driver stayed at the scene and was cooperative. The officers stated that the motorist did not appear intoxicated with alcohol or drugs.
The police are still looking further into the crash and requesting anyone who saw it happen to call them for information.
A 13-year-old was also hit by a car in the same area last January. He is still now in the hospital for rehabilitation treatment.

Pedestrian Accident Statistics
The number of people killed in car accidents dropped by 14% between 2007 and 2016, according to data published by the Governors Highway Safety Association. Nevertheless, throughout this same period, pedestrian fatalities increased by 27%. These numbers suggest that street walking in the US is becoming increasingly risky.
According to official statistics, there were 5,977 pedestrian deaths in the United States in 2016. By the end of that year, almost 88 people were dying per minute. In 2017, almost 137,000 pedestrians were hospitalized due to injuries.
Over 14,000 pedestrians were injured and 893 died in California in 2012. Statistics show that this is the most critical reason why pedestrians in California end up in the hospital.
What to Do After a Pedestrian Accident
If you or a loved one are in a pedestrian accident, dial 911 immediately. It is in everyone's best interest for you to be as clear as possible and avoid making any assumptions when communicating with the authorities or the insurance provider. Innocent victims may apologize, but such behavior can be used as evidence by the insurers against a claim.
Get in touch with the relevant law enforcement agency if you wish to obtain a copy of the report. This website also features an online form you can fill out. We'll go to work on your request as soon as we can get our hands on the report. We'll have one of the best attorneys in the country look over your insurance claim at no extra charge.
Pedestrian Accident Lawyers in Sonoma County
In California, pedestrians are afforded the same safety measures in the event of a collision as motorists, bicyclists, and passengers. You might be entitled to file a personal injury or wrongful death lawsuit against the at-fault driver if you or a loved one were wounded in a car accident that wasn't your fault.
Our trusted Sonoma County pedestrian accident lawyers at Arash Law, led by Arash Khorsandi, Esq., have extensive experience and accolades advocating for accident victims. Our clients have been awarded compensation totaling $400 million.
Call (888) 488-1391 now or click the "Do I Have a Case?" on our website to set up a free consultation with one of our attorneys.