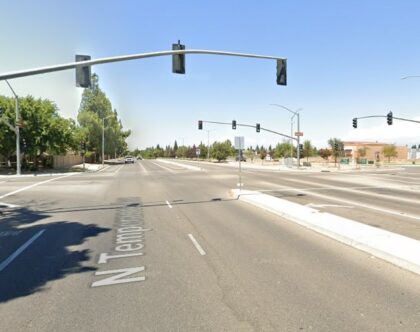 A 67-year-old woman was found dead and the search for the vehicle involved is on after a suspected hit-and-run crash in Clovis on Saturday, March 04, 2023.
According to the Clovis Police Department, the fatal suspected crash that killed the elderly woman occurred in the area of Temperance Avenue and Sierra Avenue.
The woman, identified as Barbara R. of Clovis, was found dead by the investigators who arrived at the scene, lying on the ground on a sidewalk with a dog on a leash. The dog was unharmed but the woman was declared dead on the spot.
The Fresno County Coroner learned that blunt force trauma was the cause of her death. What specifically caused those injuries is yet to be determined. But surveillance footage obtained showed the woman walking her dog that morning with a red Toyota Corolla nearby.
The community's assistance is being sought by the Clovis Police to identify the car that was seen close to the neighborhood. No further details were available.

Fatal Hit-and-Run Accident Statistics
In the United States, it is illegal to flee the scene of an accident without helping the injured or notifying authorities. There are legal implications, such as jail time, for drivers who cause accidents and then abandon the scene.
The number of hit-and-run accidents in the United States in 2015 was reported to be 737,100 by the National Highway Traffic Safety Administration. According to this data, a hit-and-run occurs once every 43 seconds in the USA. As many as 2,049 people were murdered in hit-and-run accidents in 2016, a record high.
A total of 2,948 Hit-and-run accidents caused 3,056 deaths in California between 2010 and 2019. The state of California has one of the highest death tolls from these types of events.
What to Do After a Hit-and-Run Accident
If you or a loved one are involved in a hit & run, dial 911 right away to get help. Always be honest and never make assumptions while communicating with authorities or insurance companies. Some victims may express regret even if they played no role in the incident. An insurance company might consider this kind of behavior as grounds for rejecting a claim.
Making the necessary inquiries to the authorities that handled the case will get you a copy of the final report. Or, you can use the online form provided on this page.
After we get the report, we'll go to work on your request. Take advantage of our highly renowned attorney's free consultation to learn how to maximize your insurance benefits.
Hit-and-Run Accident Victim Lawyers in Fresno County
If you are involved in a hit-and-run accident in California, you have the option of filing an insurance claim and/or going to court. Don't wait to get in contact with one of our highly recognized attorneys if you or a loved one has been tragically injured or murdered due to someone else's negligence.
Our trusted Fresno County hit-and-run accident victim lawyers at Arash Law, led by Arash Khorsandi Esq., have experience and accolades advocating for accident victims, with awarded compensation totaling $400 million. Call (888) 488-1391 now or click the "Do I Have a Case?" on our website to set up a free consultation with one of our attorneys.