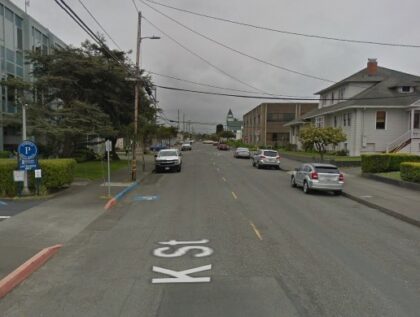 One person was found badly injured after a pedestrian crash in Eureka on Saturday morning, March 4, 2023.
The collision reportedly occurred around 7:00 a.m. on Fifth Street near K Street.
According to authorities, a passerby noticed the victim was partially on the sidewalk and partially in the street and believed the person had been hit by a vehicle, but no car was nearby.
An officer rushed to the scene and noticed debris in the roadway, indicating a traffic collision.
Soon after, he discovered a man lying down with facial injuries and labored breathing.
The victim was immediately transported to the hospital via ambulance with two firefighters (with lights and a siren.)
One lane was closed, and traffic was moving slowly through the area, according to Caltrans QuickMap.
Investigations are currently ongoing.

Pedestrian Accident Statistics
According to a report by the Governors Highway Safety Association, 7,485 pedestrians died in traffic collisions in 2021, a record high for the last 40 years.
It is estimated that there were 5,937 pedestrian fatalities in the United States in 2016. As of the end of the year, eighty-eight people were expected to die per minute. At least 137,000 pedestrian injuries were reported in 2017 that required medical attention.
In California, pedestrians are the most likely to die in accidents and fatalities. Pedestrians are the most likely to die in accidents and deaths in the state. In 2012, there were 893 pedestrian fatalities and 14,000 pedestrian injuries.
Pedestrians need to exercise caution when crossing driveways and parking lots. In addition, they must stay on the sidewalks, avoid drugs and alcohol, and remain vigilant at all costs. Following these guidelines, you can reduce your chances of being injured in an accident.
After an Accident, How Do I Obtain a Police Report?
Understandably, this is a challenging time for you. Our team can help you obtain a police report for this incident. We will assist you in contacting the appropriate individuals and obtaining the report. Your next step is to initiate a claim and get compensation for your injuries.
We will handle everything, including filing your claim, so there is no need to pay us upfront. As part of our services, we will also help ensure that all of your medical bills are paid by the responsible party's insurance company.
Contact us with any questions or concerns about proceeding after an accident like this.
Trusted Pedestrian Accident Attorneys in Eureka
Even when a crosswalk isn't strictly necessary, the safety of pedestrians should always come first. When pedestrians are involved in accidents, pedestrians always have the right of way. Drivers suspected of breaking the law will be interrogated.
Insurance claims can be complicated to process. Count on our firm to handle your lawsuit and claim successfully.
Financial relief may be available if the responsible party or insurer pays compensation. Obtaining legal advice from an attorney with experience navigating the complex legal system is the best way to win your case.
Our Eureka pedestrian accident attorneys at Arash Law, led by Arash Khorsandi, Esq., always put their client's needs at all costs. We strive to return you to normal activities as soon as possible after a life-threatening injury.
To learn more about your legal options, call us today at (888) 488-1391 or complete our "Do I Have a Case?" form online.