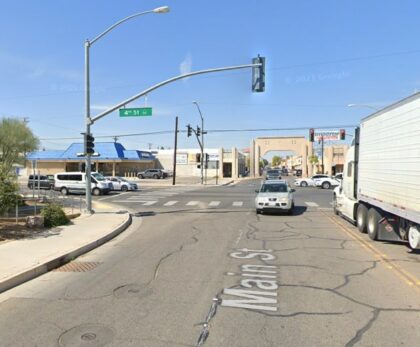 A hit-and-run collision led to one driver sustaining injuries in El Centro on Saturday afternoon, March 4, 2023.
Reports stated that the crash transpired around 4:30 p.m. on 4th Street and Main Street.
According to authorities, a Scion FR-S and a Buick collided, and occupants in the Scion immediately fled the scene. They were last seen running away on foot.
Meanwhile, the Buick driver was taken to El Centro Regional Medical Center. Details on the victim's condition and identity have not been released.
Investigating officers are reviewing surveillance video of the accident.

Hit-And-Run Collision Statistics
Pedestrian collisions and fatalities have increased in recent years. California has the highest risk of pedestrian fatalities and serious injuries compared to other states. Over 14,000 pedestrians were injured in California in 2012, with 893 dying.
An accident resulting in hit-and-run occurs when two vehicles collide, and the driver leaves the scene without stopping to assist the injured party. The injuries caused by hit-and-run accidents may not only result in pain and suffering but can also worsen outcomes since victims are often delayed in receiving medical attention.
A recent study found that the number of fatalities caused by hit-and-run accidents is rising. Pedestrian accidents accounted for 24% of all pedestrian deaths in 2020.
Pedestrian fatalities and injuries are frequently caused by motorists failing to yield to pedestrians or braking too suddenly. Pedestrians should walk on sidewalks and exercise caution when crossing parking lots or driveways to reduce their risk of injury.
What Do I Need To Do After an Accident?
We can assist you if you've been injured in an accident.
We only need the details of what happened and where it took place. Upon receiving your request, we will contact the relevant parties and provide you with all the information you need.
We handle this process for every client, so you don't need to worry about your insurance covering any damage or injuries.
Hit-And-Run Accident Attorneys in El Centro
A traumatized accident victim may require considerable time and effort to recover. This would cause people to spend much money on medical care and lose employment opportunities.
If you have been injured in a hit-and-run, you should contact an attorney as soon as possible. The careless driver may still be held responsible for the damage they cause even if they are never caught.
Our firm assures our clients that they will receive the highest level of care and commitment from us. Our team works diligently to hold reckless drivers accountable.
Our El Centro hit-and-run accident attorneys at Arash Law, headed by Arash Khorsandi, Esq., have established a reputation as exceptional advocates of hit-and-run accident victims. We are dedicated to defending your right to compensation and operate on a contingency fee basis.
To schedule a no-obligation consultation with our legal team, dial (888) 488-1391 or fill out our website's "Do I Have a Case?" form.