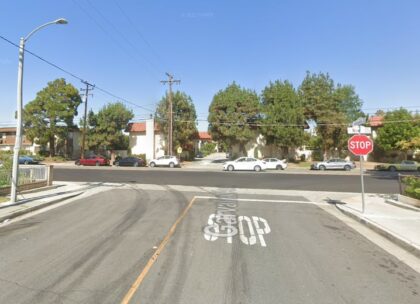 One person was killed following a pedestrian crash in Rosemead on Saturday night, March 4, 2023.
According to authorities, the crash occurred around 9:30 p.m. on Garvalia Avenue in the 7400 block.
Upon arriving at the scene, responders found a man in the street with facial and lower body injuries.
He was rushed to the hospital by paramedics, where he died. His identity was withheld until his next of kin was notified.
Meanwhile, the driver remained at the scene and cooperated with authorities.
Those with information about the crash should contact homicide detectives at 323-890-5500 or Crime Stoppers at 1-800-222-8477.

Fatal Pedestrian Crash Statistics
As reported by the Governors Highway Safety Association, pedestrian fatalities surpassed a 40-year high of 7,485 in 2021.
As compared to 2019, pedestrian deaths caused by speed increased by 8.6% in 2020. A pedestrian's safety is significantly impacted by speed. From 10% at 23 mph to 90% at 58 mph, pedestrian mortality increases substantially with vehicle speed.
Pedestrian accidents can be fatal. There is a high probability of pedestrian injuries when two cars collide.
Recent decades have seen an increase in pedestrian fatalities and injuries on highways. Motor vehicle collisions have historically been the most hazardous for pedestrians.
Pedestrians must use sidewalks, abstain from alcohol and drugs, cross parking lots cautiously, and drive cautiously. In this way, they are less likely to be injured during these encounters.
How To Obtain a Police Report After an Accident
We are aware that this is a trying time for you. If you would like to obtain a police report for this incident, we can assist you. Upon request, our team will contact the appropriate individuals and assist you in getting the report. After this, you can begin the claims process and seek compensation for your injuries.
Our team will handle everything, including filing your claim, so you will not need to pay anything upfront. As part of our services, we will ensure that the responsible party's insurance company pays all of your medical expenses.
Please do not hesitate to contact us with any questions or concerns regarding proceeding after a similar incident.
Reliable Pedestrian Accident Lawyers in Rosemead
In California, pedestrians injured in traffic accidents or losing a loved one have the same legal rights as motorists involved in collisions.
You should consider your options if someone else's negligence caused severe injury or death to you or a family member. If such a situation arises, the legal system will ensure you receive the compensation you are owed. With the help of our reputable legal team, you can file an insurance claim after an accident.
Our Rosemead pedestrian accident lawyers at Arash Law, led by Arash Khorsandi, Esq., have a proven track record of successfully representing accident victims in court. Our clients have received compensation totaling more than $400 million.
Dial (888) 488-1391 today or visit our website and click the "Do I Have a Case?" link to schedule a free consultation with an attorney.