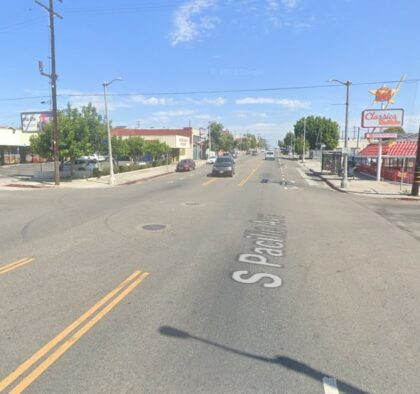 A pedestrian crash claimed one person's life in Los Angeles early Saturday morning, March 4, 2023.
According to reports, the fatal collision occurred around 12:40 a.m. on Pacific Avenue near Front Street.
Authorities received calls about the crash and discovered that a vehicle had struck a pedestrian.
When responders arrived, they pronounced the victim dead at the scene
Officials have not released the victim's identity, pending notification of their next of kin.
The driver did not appear to remain at the scene.
Further details on the cause of the collision are underway.

Fatal Pedestrian Accident Statistics
According to a Governors Highway Safety Association report, 7,485 pedestrians were killed in vehicle collisions in 2021, a record high for the last 40 years.
There were 8.6% of pedestrian deaths due to speeding in 2020, an increase from 7.2% in 2019. Pedestrian safety depends heavily on speed. With a vehicle speed of 58 mph, pedestrian deaths increase exponentially from 10% to 90%.
Tragic outcomes often result from pedestrian accidents. An accident between two vehicles would leave pedestrians unprotected and at risk of serious injury.
Accidents involving pedestrians are one of the most common causes of injury and death on American roads. In car accidents, pedestrians are historically the most vulnerable.
It is important for pedestrians to always walk on the sidewalks, avoid drinking or using drugs, and cross parking lots and driveways with caution. This reduces their risk of being injured in such collisions.
What Should I Do After Being Involved in an Accident?
Ensure that law enforcement arrives at the scene and files a report. During an interview at the location of the accident, it is essential that you tell the truth about what you saw and experienced. Whenever you speak, try not to make assumptions about unfamiliar things. Anxiety and shock may cause accident victims to apologize profusely, even if they were not at fault. Insurance companies may take advantage of this act of kindness to avoid paying out on a claim.
Due to California's high rate of traffic accidents, pedestrians, cyclists, and vehicle passengers have all been injured. Our attorneys are here to help you regardless of whether you were in a vehicle during the accident.
We'll pursue the money you're owed while you focus on getting better and keep you updated every step of the way.
Trusted Pedestrian Accident Lawyers in Los Angeles
In California, pedestrians and families of pedestrian accident victims have the same rights as those suing for personal injuries or wrongful deaths following a car accident.
What measures would you take if you or a loved one sustained life-threatening injuries due to someone else's negligence? Our highly regarded team of lawyers is ready to assist you if you or a loved one has been injured or killed due to the negligence of another.
Our trusted Los Angeles pedestrian accident lawyers at Arash Law, led by Arash Khorsandi, Esq., are experienced and acclaimed in representing accident victims during these legal proceedings. Our clients have been awarded $400 million in compensation through our efforts.
Dial (888) 488-1391 or visit our website's "Do I Have a Case?" link to schedule a no-cost consultation with one of our attorneys.