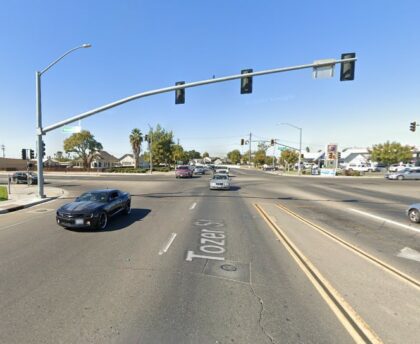 One person was injured after a two-vehicle crash involving a DUI driver in Madera on Saturday night, March 04, 2023.
The Madera Police Department reported that the DUI collision occurred near Tozer Street and Yosemite Avenue.
The responding officers discovered two vehicles involved in the crash upon arrival. One of the drivers sustained minor injuries. There are no updates on their current condition.
The investigation revealed that the other driver, Jose R., was heavily intoxicated, with twice the legal limit.
He was detained for felony DUI as the further investigation continued.

DUI Accident Statistics
In the United States, 10,142 persons were killed in car accidents involving intoxicated drivers in 2019. The national rate of DUI-related fatalities was 3.1 per 100,000 population in that same year, and 2.4 in California, with a total of 949 people losing their life. Drunk driving was a factor in 28.1% of all U.S. fatalities and 26.3% of all California fatalities.
Another government study found that while drunk driving-related deaths, injuries, and accidents have decreased since the 1980s, there are still far too many intoxicated drivers on the road today causing problems and risk creating accidents.
If your BAC is above 0.08 in California, you could face criminal charges. When a driver is under the influence of alcohol, their senses and judgment are impaired, putting everyone else on the road in danger.
What to Do After a DUI Accident
Call 911 immediately if you or a loved one are involved in an accident involving a DUI driver. Whether you're talking to the police or your insurance company, it's in everyone's best interest to be as specific as possible and avoid making any assumptions. Some of the uninvolved victims may be entitled to an apology. If one engages in such activity, insurers may use it as evidence against a claim.
If you want a copy of the report, you can get in touch with the appropriate law enforcement agency. You can also fill out an online form on this site. The moment we have the report in hand, we will begin working on your request. At no cost to you, we'll have one of the greatest lawyers in the country review your insurance claim.
DUI Accident Lawyers for Victims in Madera County
In California, you have the right to sue a drunk driver for damages if they cause injury to you or a member of your family. If you or a family member have been harmed and need help working out a settlement with an insurance company, please get in touch with us as soon as possible.
Our trusted Madera County drunk driving accident victim lawyers at Arash Law, led by Arash Khorsandi, Esq., have extensive experience advocating for accident victims, with awarded compensation totaling $400 million.
Call (888) 488-1391 now or click the "Do I Have a Case?" on our website to set up a free consultation with one of our attorneys.