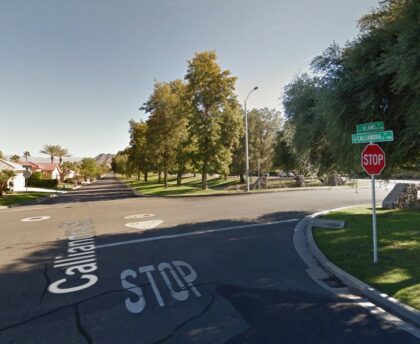 One person was fatally struck and killed after a pedestrian crash in Palm Desert on Saturday night, March 4, 2023.
According to authorities, the collision transpired around 6:00 p.m. near Calliandra Street and Alamo Drive.
Reports stated that a driver, who has been identified, was traveling eastbound on Calliandra Street at an unknown speed when they struck the person.
Paramedics arrived at the scene and determined that the victim had died.
Officials believe the driver was under the influence of alcohol at the time of the collision.
The driver was arrested at the scene and transported to a nearby detention center for homicide.
The circumstances of the accident are still being investigated.

Fatal Pedestrian Crash Statistics
The Governors Highway Safety Association reported 7,485 pedestrian deaths in 2021, the highest number over four decades.
Pedestrian fatalities caused by speed increased from 7.2% to 8.6% in 2020. Pedestrian safety is significantly impacted by speed. With increasing vehicle speed, pedestrian fatalities increase, reaching 90% at 58 mph.
The United States recorded 5,937 pedestrian fatalities in 2016. It was expected that 88 people would die each minute by the end of the year. Approximately 137,000 pedestrians were injured in 2017 and sought medical treatment.
California has the highest number of pedestrian fatalities and collisions. It is estimated that approximately 14,000 pedestrians were injured in 2012, with 893 pedestrians dying.
A pedestrian must always adhere to a path, avoid drugs and alcohol, and exercise caution when crossing parking lots and driveways. By following these recommendations, they will have a greater chance of avoiding accidents.
How Do I File a Police Report Following an Accident
We recognize that this is a trying time for you. If you need assistance in obtaining a police report for this incident, we can assist you. Upon receiving your request, a team member will contact the appropriate individual and assist you in obtaining the report. Once completed, you can begin the claims process and seek compensation for your injuries.
We will handle the process of filing your claim, so there will be no need for you to pay anything upfront. Additionally, we will assist you with obtaining payment from the responsible party's insurance company.
If you are unsure how to proceed following an accident like this, please feel free to contact us.
Pedestrian Accident Attorneys in Palm Desert
Pedestrians should be observed by drivers regardless of whether they are in a crosswalk. It is permissible to cross the street even if there is no designated crosswalk. A thorough investigation would determine whether any legal violations were committed concerning the collision.
Families of victims may sue the individuals responsible for the victim's death. Courts have the power to award damages in a wide variety of situations.
Our Palm Desert pedestrian accident attorneys at Arash Law, led by Arash Khorsandi, Esq., can assist you if you or a loved one has been injured in a pedestrian accident. Negligent drivers must be held accountable for their actions to prevent traffic accidents.
Call (888) 488-1391 or use our website's "Do I Have A Case?" form for a free consultation with an expert California pedestrian accident lawyer.