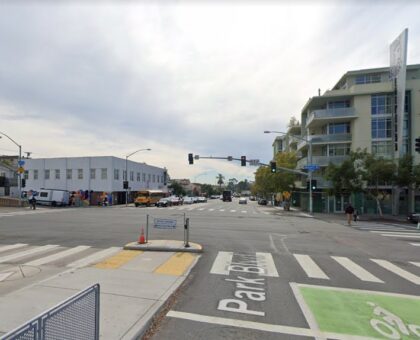 Five people were injured following a two-vehicle crash that turned one car on its side in North Park, San Diego, on Saturday night, March 04, 2023.
According to the San Diego Fire-Rescue Department, the collision occurred around 8:30 p.m. at the intersection of University Avenue and Park Boulevard.
First responders learned upon arrival that two people were trapped inside the wreckage and had to be extricated. They were then taken to a nearby hospital. An additional three people from the second car involved were hospitalized.
All five victims reportedly received medical evaluation and treatment. No further details were released on the victims' identities and the extent of their injuries.
There is no other information on what caused the crash as the investigation by the authorities continues.

Two-Vehicle Accident Statistics
Most accidental deaths and hospitalizations in the United States occur as a result of motor vehicle collisions. More than two million people die and ten million are wounded in traffic-related incidents annually around the world.
The National Safety Council determined that, despite a 3-year decline, traffic fatalities climbed by 8.3 percent in 2020. There were 39,107 fatalities due to automobile accidents in the United States in 2019. In the year 2020, there were 42,338 of them.
3,847 individuals lost their lives in automobile accidents in the Golden State of California in 2010. (2020). There were 2,260 fatalities (59%) associated with single-vehicle accidents and 1,587 fatalities (41%) associated with multiple-vehicle accidents.
What to Do After a Car Accident
If you or a family member are involved in an automobile crash, dial 911 immediately. Whether communicating with law enforcement or an insurance company, it is in everyone's best interest to be as specific as possible and avoid making any assumptions. Even when the victim is completely blameless, apologies are a typical occurrence. Insurers may reject a claim if the victim acts in such a way.
If you want a copy of the report, you must contact the appropriate law enforcement that handled the case. You can also fill out the online form on this page. As soon as we have access to the report, we will begin working on your request. At no additional cost, one of our attorneys will review your insurance claim.
Car Accident Lawyers in San Diego County
All those who have been hurt or lost a loved one in a car accident and believe they may have a personal injury or wrongful death case are welcome to a free consultation with our firm. Please don't be hesitant to get in contact with us if you have any questions or would like to consult with an attorney before making an insurance claim.
Our trusted San Diego County car accident lawyers at Arash Law, led by Arash Khorsandi Esq., have the recognition and vast experience to advocate for accident victims, with awarded compensation totaling $400 million as of yet. Contact (888) 488-1391 or click the "Do I Have a Case?" on our website to schedule a free consultation with one of our lawyers.