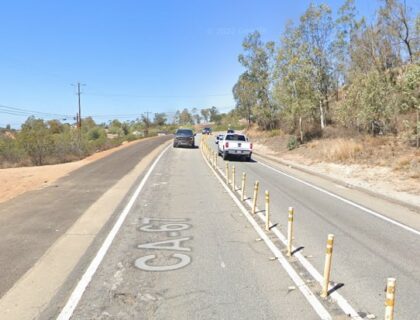 A suspected DUI collision led to two drivers being injured in Poway on Saturday night, March 4, 2023.
According to reports, the crash occurred around 11:12 p.m. north of Ellie Lane on State Route 67.
Reports indicated a 26-year-old woman in a 2008 Mercedes-Benz crossed from the southbound lanes and went up an embankment along the northbound side.
The Mercedes then rolled back onto the northbound roadway, crashing into a 2017 Volkswagen GTI driven by a 27-year-old man.
The woman was rushed to Sharp Memorial Hospital with life-threatening injuries.
Meanwhile, the Volkswagen driver was taken to Palomar Medical Center Escondido with minor injuries.
Officials believe alcohol was a factor in the collision. Deputies requested assistance from the Sheriff's Traffic Accident Reconstruction team with the investigation.
Those with information about the incident should call 858-513-2800 and ask for Traffic Investigator Donald Westfall.

DUI Collision Statistics
According to the National Highway Traffic Safety Administration, approximately 32 people die in drunk-driving crashes in the United States every day, or one every 45 minutes.
The number of alcohol-impaired driving traffic fatalities in 2020 is expected to be 11,654, a 14% increase from 2019.
According to the California DUI Management Information System, alcohol-related crash fatalities increased by 5.8% in 2017, following a 6.9% increase in 2016.
Drunk driving endangers the environment, other road users, and drivers. Drunk drivers' reckless driving wastes an estimated 2 billion gallons of fuel yearly.
These statistics demonstrate why everyone should monitor their drinking habits and never drive after consuming more alcohol than is recommended.
What Should I Do After an Accident Occurred?
Report the collision to law enforcement as soon as possible after it occurs. If you are interviewed at the accident scene, ensure you are truthful about your observations and experiences. Avoid making assumptions about things you do not understand, and be careful with your words. After an accident, victims can apologize profusely due to anxiety and shock, even when they are not at fault. Insurance companies can twist this act of kindness into evidence that you admitted guilt to avoid paying out.
A high rate of traffic accidents has caused injuries to pedestrians, cyclists, and passengers in vehicles in California. You can rely on our experienced lawyers whether or not you were in a car during the accident. As we pursue the money you're owed under the law, you can focus on getting better, and we'll keep you updated every step of the way.
DUI Accident Victims' Lawyers in Poway
Accident victims rarely fully recover and return to their previous level of functioning after being injured in a collision. Accordingly, California's injury laws cover all vehicle-related injuries.
An injury lawsuit may enable you to recover compensation from the negligent driver. Survivors may experience wage loss, extended rehabilitation, and high medical costs.
Our Poway DUI accident lawyers at Arash Law, headed by Arash Khorsandi, Esq., aggressively pursue justice for clients injured in these accidents. DUI drivers face legal ramifications for their risky decision to drive while impaired.
Our legal team strives to get their settlements as high as possible to ensure that our clients can afford treatment and support their families.
Should you or a loved one be injured in a California car accident caused by a drunk driver, call us at (888) 488-1391 or click on our online "Do I Have a Case?" link.