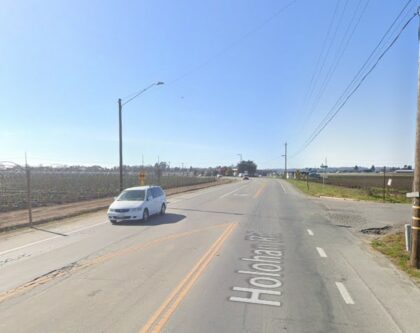 A DUI collision claimed the life of a 26-year-old woman, Breanna R., and injured 25-year-old Kianna H. in Watsonville on Saturday night, March 4, 2023.
The fatal crash reportedly occurred around 10:22 p.m. at Holohan and Grimmer Roads.
Authorities stated that a 2007 Volvo XC90 was driving southbound on Holohan Road, approaching Grimmer Road at an unknown speed. At the same time, a 2015 Hyundai Elantra was coming towards the Volvo northbound on Holohan Road.
The Volvo was driven by a 38-year-old woman identified as Angelia V., crossed the solid double lines for an unknown reason, and collided head-on with the Hyundai.
The female Hyundai driver was pronounced dead at the scene.
Meanwhile, a female passenger suffered severe injuries and was taken to Natividad Hospital.
The Volvo driver was arrested on felony DUI charges and taken to Natividad Hospital for her serious injuries.

Fatal DUI Collision Statistics
The National Highway Traffic Safety Administration reports that 32 people are killed in drunk-driving accidents in the United States every day, or one every 45 minutes.
Alcohol-impaired driving traffic fatalities were expected to increase by 14% from 2019 to 11,654 in 2020.
Based on the California DUI Management Information System, alcohol-related crashes increased by 5.8% in 2017, up from 6.9% the previous year.
The environment, other road users, and drivers are all at risk when drunk drivers are on the road. Annually, drunk drivers waste about 2 billion gallons of fuel due to reckless driving.
Based on these statistics, everyone should monitor their drinking habits and never drive after consuming more alcohol than is recommended.
How Do I Obtain a Police Report Following an Accident
We are aware that this is a difficult time for you. If you need a police report following an accident, you can contact us. Our team will contact the right people and help you get the information. Following this, you can initiate the claims process and obtain compensation for your injuries.
You don't need to worry about paying us up front—we'll handle everything, including filing your claim. Additionally, we will assist you in obtaining payment from the responsible party's insurance company for all of your medical expenses.
Feel free to contact us if you have any questions or concerns about how to proceed after an accident like this.
DUI Accident Attorneys for Victims in Watsonville
A DUI accident can leave you feeling a variety of emotions. Your emotions may include anger, confusion, and fear. You might be interested in what happens next.
Your injuries may be covered by filing a personal injury claim against the negligent driver. These accidents result in financial hardships for the victims due to lost wages and medical expenses.
It is unlikely that you will survive a drunk driving accident unharmed. California's injury laws protect you if you are injured in a car accident.
Our Watsonville DUI accident lawyers at Arash Law, led by Arash Khorsandi, Esq., are committed to pursuing justice for their clients injured in these collisions. When drunk drivers endanger others' lives, they should be held financially and legally responsible.
Our clients rely on us to aggressively pursue maximum settlements to pay for life-saving medical care and support their families. To speak with one of our DUI accident attorneys, call us at (888) 488-1391 or fill out our online "Do I Have Case?" form.