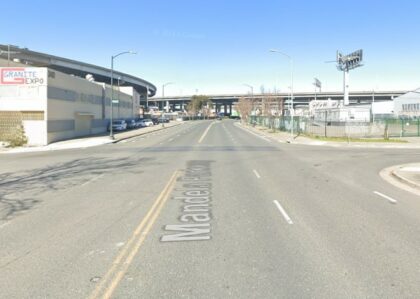 One person was hospitalized after being attacked by two dogs whose owner they had an altercation with in Oakland on Sunday morning, March 05, 2023.
According to the Oakland Police Department, the officers received the report of a dog attack that occurred early morning, shortly after 5:00 a.m., at 3600 Mandela Parkway.
The report stated that two people were in an altercation, with one carrying two aggressive dogs. The other person was found by the responding officers being attacked by both dogs.
The unidentified victim was taken by emergency medical personnel to a nearby hospital for treatment while the dogs were handled by animal control. No further details were released on their current state and the other person involved.
Anyone with information about the dog attack and altercation is encouraged to contact the authorities as the investigation continues.

Dog Bite Injury Statistics
According to the Centers for Disease Control and Prevention, over 800,000 Americans are bitten by dogs yearly, necessitating medical attention. Children account for a disproportionate share of the bitten victims.
Compared to the other US states, California had the highest number of fatal dog bites in 2019. According to estimates, 15 children and 21 adults were murdered by dogs in 2018.
The laws regulating dog attacks vary widely between states. When considering instances involving dog attacks, juries in California must follow the procedures outlined in Section 3342 of the Criminal Code. If a dog causes damage in a public or private area where dogs are allowed, the owner will be held financially responsible.
What to Do After a Dog Attack
Dog attacks can be chaotic and violent, typically including multiple dogs assaulting the victim. If the victim survives the attack, the victim will most likely suffer wounds such as puncture wounds, scratches, or crush injuries. Dog bite victims may need rabies vaccines or other preventative measures if the dog was not up-to-date on its vaccinations. Dog bites often result in puncture wounds, which can be excruciatingly painful and take weeks to heal.
After a dog attack, getting medical assistance is the top priority. Your prognosis may improve if you receive medical attention quickly after these wounds. Then you need to speak with one of our firm's experienced dog bite lawyers practicing in California. We can give you a no-cost, no-obligation consultation and assist you in filing a claim for damages.
Dog Accident Lawyers in Oakland
Due to the prevalence of dog bites, extreme caution should be exercised when interacting with them due to the high risk of getting bitten. Keep your cool and stay apart from the dog should it bite you for no reason.
Our trusted Oakland dog bite injury lawyers at Arash Law, led by Arash Khorsandi, Esq., have extensive experience and accolades advocating for accident victims. Our clients have been awarded compensation totaling $400 million.
Call (888) 488-1391 now or click the "Do I Have a Case?" on our website to set up a free consultation with one of our attorneys.