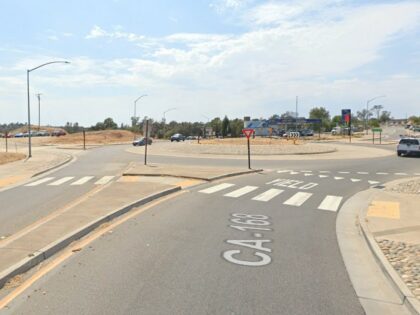 One person, suspected of driving under the influence, was killed, while two others were injured in a solo-vehicle crash in Fresno County on Sunday night, March 05, 2023.
According to the California Highway Patrol, the fatal DUI crash occurred shortly after 10:00 p.m. on the eastbound side of Highway 168, east of Auberry Road, near Prather.
38-year-old Prather resident Roger D. was driving a Chevrolet Silverado east on the highway when the vehicle veered north off the road and into a dirt embankment before overturning. It came to a stop blocking both directions of the highway's two lanes.
The driver was ejected for not wearing a seatbelt and was declared dead at the scene. He was identified by the Fresno County Coroner's Office.
There were two passengers during the crash: an 18-year-old sustained serious injuries and was transported to Community Regional Medical Center in Fresno in an unknown condition. A 17-year-old had minor wounds.
CHP said the driver was believed to be under the influence of drugs or alcohol, or both, during the crash. The investigation continued.

Fatal DUI Accident Statistics
In 2019, 10,142 people were killed in car accidents involving drunk drivers in the United States. In the same year, there were 949 deaths across California as a result of DUI, with the rate being 2.4 per 100,000 people. Nationwide, the rate was 3.1. In total, drunk driving was a factor in 28.1% of all U.S. fatalities and 26.3% of California fatalities.
Although deaths, injuries, and accidents caused by drunk driving have reduced since the 1980s, there are still far too many drunken drivers on the road today, according to another official research.
In California, if your blood alcohol content (BAC) is 0.08 or higher, you will be arrested. A drunk driver poses a threat to themselves and others on the road because of their impaired senses and judgment.
What to Do After a DUI Accident
Call 911 immediately if you or a family member are in a car accident. It is in everyone's best interest to be as clear as possible and avoid making any assumptions while speaking with police enforcement or an insurance company. It's not uncommon for the victims to apologize, even if they are blameless. If the victim behaves this way, the insurer may deny the claim.
In order to obtain a copy of the report, you must contact the agency that investigated the incident. An online form is also available on this page. Once we have the report in hand, we can get started on your request. One of our attorneys will analyze your insurance claim at no extra charge to you.
DUI Accident Lawyers for Victims in Fresno County
Anyone injured by a drunk motorist in California can seek compensation through civil court proceedings. Please get in contact with us without delay if you or a loved one has been injured and you need assistance negotiating a settlement with an insurance company.
Our trusted Fresno County drunk driving accident victim lawyers at Arash Law, led by Arash Khorsandi, Esq., have extensive experience advocating for accident victims, with awarded compensation totaling $400 million.
Call (888) 488-1391 now or click the "Do I Have a Case?" on our website to set up a free consultation with one of our attorneys.