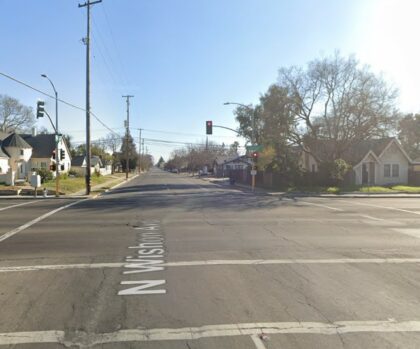 Three people were hospitalized with injuries after a police pursuit ended in a two-vehicle crash in central Fresno on Sunday night, March 05, 2023.
According to the Fresno County Sheriff's Office, the pursuit started at N Maroa and E Fedora avenues and ended in a crash at N Wishon and E Clinton avenues intersection.
The deputies tried to pull over a car due to a traffic violation, after which the vehicle took off and a brief pursuit ensued. It then ran a red light at Wishon and Clinton intersection before crashing into another car.
The struck vehicle had three occupants inside. All three of them were transported to a local hospital with unspecified injuries. There are currently no updates on their conditions.
The suspect had active warrants of arrest and is now in custody. Police discovered burglary tools in his vehicle.

Reckless Accident Statistics
Each year, hundreds of people are killed and thousands are injured in the United States due to careless drivers. According to the National Highway Traffic Safety Administration, the reckless disregard for the safety of other drivers is what defines reckless driving.
It is challenging to put a number on the annual human suffering that may be linked to irresponsible driving. However, the AAA found that between 2003 and 2007, reckless driving contributed to 56% of all accidents.
The Fatal Accident Reporting System maintained by the National Highway Traffic Safety Administration demonstrates that speeding contributes to many different types of fatal car accidents every year in the United States.
What to Do After a Car Accident
Don't hesitate to call 911 if you or a loved one are involved in a car accident. Communication with law police or an insurance company should be as exact as possible, without making any assumptions. Even if they had nothing to do with it, victims may apologize. If the victim behaves in such a way, the insurance company may decide not to pay out.
You'll have to get in touch with the division that conducted the probe if you want a copy of the report. There is also a form here that you may fill out to get in touch with us. As soon as we have the report, we can get started on your request. One of our attorneys will examine your insurance claim at no cost to you.
Reckless Accident Victim Lawyers in Fresno County
In the event of a fatality or severe injury, the family of the victim has legal recourse against the negligent driver. Contact a California personal injury lawyer that focuses on vehicle accident lawsuits if you are ever hurt in an accident that someone else caused.
Our award-winning Fresno County reckless accident lawyers at Arash Law, led by Arash Khorsandi, Esq., have years of experience in advocating for accident victims, with granted compensation totaling $400 million so far.
Contact (888) 488-1391 or click the "Do I Have a Case?" on our website to schedule a free consultation with one of our lawyers.