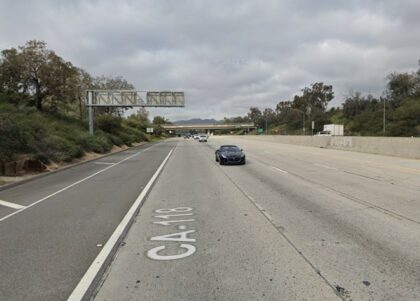 Two people were killed after a wrong-way two-vehicle collision involving a suspected DUI driver in Porter Ranch, Los Angeles, on Sunday morning, March 05, 2023.
According to a spokesperson of the California Highway Patrol, the deadly crash occurred at about 4:30 a.m. on the westbound lanes of the 118 Freeway at Rampa Avenue.
The report stated that a black sedan was heading east on the highway's westbound lanes when it crashed head-on with a yellow box truck. The sedan's front and top were destroyed while the truck rolled into an embankment close to the off-ramp.
Two individuals inside the sedan were declared dead on the spot, while the driver, suspected of driving under the influence, was taken to a hospital with serious wounds. The truck driver was unharmed.
The 118 Freeway's westbound lanes were shut down for the investigation for several hours that morning following the fatal crash.

Fatal DUI Accident Statistics
In 2019, 10,142 people lost their lives in car accidents caused by drunk drivers in the United States. A total of 949 people lost their lives in California due to DUI in the same year, resulting in a rate of 2.4 per 100,000 compared to 3.1 nationally. In 2010, drunk driving played a role in 28.1% of all fatalities in the United States and 26.3% in California.
While the number of deaths, injuries, and accidents attributable to drunk driving has declined since the 1980s, there are still far too many intoxicated drivers on the road today, according to another government study.
Over 0.08 blood alcohol concentration and you risk arrest in the Golden State. A drunk driver's perceptions and judgment are weakened, placing the lives of pedestrians and other motorists in danger.
What to Do After a DUI Accident
If you or a loved one is involved in a DUI accident, call the authorities immediately. When communicating with law enforcement or an insurance company, it's best to be as clear as possible and not make any assumptions. Some of the innocent victims may apologize even if they're not at fault. Such conduct can be used as evidence against a claim.
You can get in touch with the relevant law enforcement agency for a copy of the report. We also provide an online form on this site that you can fill out. We will immediately get to work on your request once we get the report in hand. One of our highly recognized attorneys, who are among the best in the country, will analyze your insurance claim at no cost to you.
DUI Accident Lawyers for Victims in Los Angeles
If you or a loved one are hurt by a drunk driver in California, you can file a lawsuit seeking compensation for your losses. Please get in touch with us without delay if you or a loved one have been injured and require assistance settling a claim with an insurer.
Our trusted Los Angeles drunk driving accident victim lawyers at Arash Law, led by Arash Khorsandi, Esq., have extensive experience advocating for accident victims, with awarded compensation totaling $400 million. Call (888) 488-1391 now or click the "Do I Have a Case?" on our website to set up a free consultation with one of our attorneys.