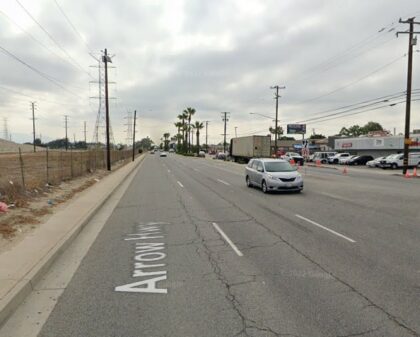 Two people were hospitalized after their car crashed into a commercial building while traveling at a suspected high speed in Irwindale on Sunday evening, March 05, 2023.
According to the Irwindale Police Department, the solo-vehicle crash involving a one-story commercial building occurred shortly after 5:30 p.m. near East Arrow Highway and Calmview Street.
The Los Angeles County Fire Department first responded to the scene and found a sizeable hole in the building's exterior, with the vehicle's engine shooting inside the structure due to the impact.
A pickup truck parked in the area was also swiped. The building has been red-tagged, indicating it's not safe for anyone to enter.
The car's two occupants sustained minor injuries and were transported to the hospital. No updates on their condition and identities were released. The driver was suspected of driving at high speed before losing control of the vehicle.
The police temporarily shut down Arrow Highway's eastbound lanes as the clearing operation ensued. All lanes reopened shortly thereafter.

Reckless Accident Statistics
Reckless drivers in the United States annually cause hundreds of deaths and thousands of injuries. Reckless driving is defined as "willful disregard" for the safety of other drivers on the road, as stated by the National Highway Traffic Safety Administration.
Quantifying the annual human suffering that may be attributable to careless driving is difficult. According to the AAA, between 2003 and 2007, careless driving was a factor in 56% of all accidents.
The National Highway Traffic Safety Administration's Fatal Accident Reporting System shows that speeding is a factor in a wide variety of fatal car accidents every year in the United States.
What to Do After a Car Accident
If you or a loved one are involved in an automobile crash, dial 911 immediately. When communicating with law enforcement or an insurance company, it's best to be as specific as possible and avoid making any assumptions.
Victims often express regret and apologize, even when they have done nothing wrong. This kind of behavior by the victim could lead to the insurance company rejecting the claim.
You'll need to get in touch with the organization that handled the investigation if you want a copy of their report. You may also fill out a form here on the website. As soon as we receive the report, we will begin working on your request. Your insurance claim will be reviewed by an attorney at no additional cost to you.
Reckless Accident Victim Lawyers in Los Angeles County
After a fatality or serious injury, the victim's family may be entitled to file a lawsuit against the careless driver. If you are ever involved in an accident due to the carelessness of another driver in California, you should speak with an attorney who specializes in such cases.
Our award-winning Los Angeles County reckless accident lawyers at Arash Law, led by Arash Khorsandi, Esq., have years of experience in advocating for accident victims, with granted compensation totaling $400 million so far. Contact (888) 488-1391 or click the "Do I Have a Case?" on our website to schedule a free consultation with one of our lawyers.