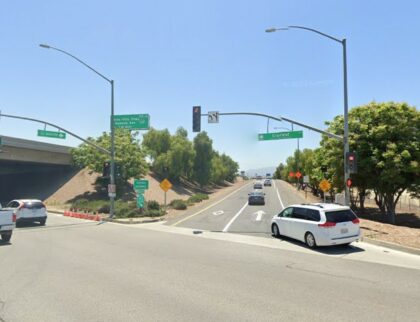 A two-vehicle collision trapped and hospitalized one driver in Chino Hills on Sunday night, March 5, 2023.
Authorities stated that the collision transpired around 10:00 p.m. at Grand Avenue and the 71 Freeway southbound on-ramp.
Responders were called to the scene after a Honda Civic crashed into the fire truck, temporarily trapping the driver inside.
The driver of the Honda was freed from the vehicle, and paramedics transported him to a nearby hospital in unknown condition.
There were no injuries among the firefighters.
Officials are currently investigating the crash.

Two-Vehicle Collision Statistics
As reported by the Fatality Analysis Reporting System for 2020, 35,766 people died from car accidents in the United States. One death occurred for every 100 million kilometers driven, or 11.7 deaths per 100,000 people.
The California Office of Traffic Safety reports that 19,938 car accidents resulted in injuries or fatalities in 2019. There was a decrease of 1.6% over the previous year.
Car accidents killed more Californians in 2014 than in 2013. A total of 4,850,777 car accidents occurred in 2017, resulting in the death of 3,898 people and the injury of 276,823. Data shows that nine people were killed in the state in 2018 for every 100,000 residents.
Human error is the leading cause of most motor vehicle accidents, for example, speeding, drunk driving, texting, and driving. Factors such as weather, road layout, and difficulty operating the vehicle all contribute to accidents.
As a driver, you are responsible for maintaining a safe following and leading distance, adhering to all traffic laws, and keeping yourself and other road users safe. Despite these precautions, tragic car accidents still occur regularly.
How Do I Obtain a Police Report After an Accident Occurred?
You can obtain a police report from your local police department. Your local police department can provide information regarding obtaining a copy of your report. We can assist you in obtaining a copy of your police report if you are still waiting to get it directly from the police department. You can do this by filling out our online form.
Upon receiving a copy of your report, we will begin the claims process for you without any upfront fees. Throughout this process, we will collaborate with you to ensure that we obtain all the necessary information and documentation.
Trusted Car Accident Lawyers in Chino Hills
Those who suffer from traumatic injuries may need more time to heal. During this time, they may struggle to find work and drown in medical debt.
Filing an insurance claim can be a challenging process. With our firm, you can be confident that your lawsuit will be successfully handled.
Compensation from the responsible party or their insurer can reduce your financial burden. The best way to win your case is by hiring an experienced legal representative who will guide you throughout the lengthy legal process.
Our Chino Hills car accident attorneys are committed to providing our clients with the highest level of service. You can count on us to speed up the process so you can get back to your routine as soon as possible.
To learn more about your legal options, call us at (888) 488-1391 or through our online "Do I Have a Case?" form.