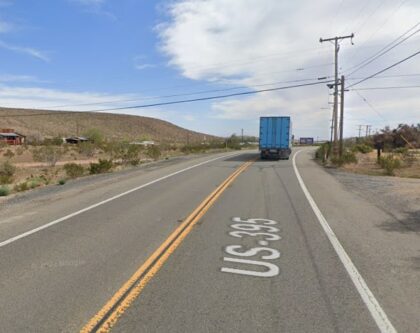 A two-vehicle collision killed a 37-year-old man, identified as Steven T., and 37-year-old Keiko T., in San Bernardino County, on Sunday afternoon, March 5, 2023.
The deadly crash reportedly occurred around 1:40 p.m. near Red Mountain, an unincorporated community along Highway 395.
According to authorities, a 25-year-old Ridgecrest man was in a 2018 Subaru sedan while 35-year-old Steven T. drove a Nissan SUV at unknown speeds.
For unknown reasons, the Subaru drifted into the single southbound lane, directly in the path of the victims, and collided with their Nissan.
Responders were called to the scene and pronounced that both victims had died.
Meanwhile, the 25-year-old Subaru driver was taken to Antelope Valley Hospital in Lancaster for treatment of his injuries. He is expected to live.
Alcohol or drugs were not contributing to this collision, and the crash is still being investigated.

Fatal Two-Vehicle Collision Statistics
As per the Fatality Analysis Reporting System, 38,824 fatal car accidents occurred in 2020, which resulted in 35,766 fatalities. A fatality rate of 1.34 per 100 million miles traveled was recorded, equating to 11.7 deaths per 100,000 people.
It is estimated that approximately 10,000 people in California die each year as a result of unintentional traffic accidents. The diagram illustrates the gravity of the situation.
Since 2013, fatal auto accidents in the state have increased by 23.5 percent. Approximately 4,850,866 automobile accidents resulted in 3,898 deaths and 276,823 injuries in 2017.
You must maintain safe following and leading distances, obey traffic regulations, and take safety precautions when driving. Although precautions are taken, fatal car accidents still occur frequently.
What Should I Do After an Accident?
We are aware that this is a difficult time for you. Our office can assist you with obtaining a police report for this incident. We will contact the appropriate individuals and assist you in getting the report. You can begin the claims process and seek compensation for your injuries.
Since we handle everything, including filing your claim, you will not have to pay us anything upfront. Our team will also ensure that the responsible party's insurance company pays all of your medical bills.
Contact us with any questions or concerns about what to do after an accident like this.
Car Accident Attorneys in San Bernardino County
Victims may require more effort and time to recover from their injuries after an accident. Their medical debt may force them to declare bankruptcy, and they may have difficulty finding work for some time.
A lawsuit against the responsible party or the insurance company can help you lessen your financial burden. Getting legal counsel from an experienced attorney will help you navigate the lengthy legal process and help you win your case.
Filing an insurance claim can be confusing and time-consuming. Our firm guarantees that this will be adequately handled on your behalf.
Our San Bernardino County car accident attorneys at Arash Law, headed by Arash Khorsandi, Esq., are dedicated to protecting their client's best interests at all times. We aim to speed up your recovery so you may resume your normal activities as soon as possible.
You can learn more about your legal options by calling (888) 488-1391 or filling out our "Do I Have a Case?" form online.