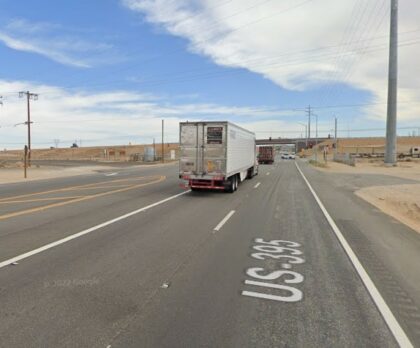 Two people were killed and one was injured after a two-vehicle head-on crash near Kramer Junction in San Bernardino County on Sunday afternoon, March 05, 2023.
According to the California Highway Patrol, the deadly fiery collision occurred at about 1:46 p.m. on the southbound lanes of Highway 395, roughly 14 miles north of Kramer Junction.
The San Bernardino County Fire and Kern County Fire both responded to the collision where a silver sedan reportedly collided head-on with a maroon sedan, with one of them catching fire following the crash.
Two unidentified individuals were killed in the collision. Another person sustained serious injuries and was airlifted to Antelope Valley Medical Center in a critical state. No updates on the person's current condition were released.
No additional information was immediately available as the authorities were still looking further into the circumstances that led to the fatal collision.

Fatal Two-Vehicle Accident Statistics
In the United States, automobile collisions account for the greatest number of accidental fatalities and hospitalizations. Moreover, each year, more than two million people are killed and ten million are injured as a result of traffic accidents around the world.
After three years of reduction, the National Safety Council found that traffic deaths increased by 8.3 percent in 2020. Across the United States in 2019, there were 39,107 people killed in car accidents. There were 42,338 of them by 2020.
3,847 people were killed in California car accidents that year (2020). Around 2,260 (59%) of the deaths occurred in events involving a single vehicle, while 1,587 (41%) occurred in collisions involving two or more automobiles.
What to Do After a Car Accident
Call 911 immediately if you or a loved one are in a car accident. It's ideal for everyone if you're as clear as possible and don't make any assumptions while talking to the police or an insurance company. Apologies are commonplace even when the victim is innocent. Such conduct could lead to a claim being denied by an insurer.
You can request a copy of the report by contacting the relevant law enforcement agency. You can also use the online contact form provided on this site. We'll get started on your request as soon as we can get our hands on the report. One of our lawyers will analyze your insurance claim at no extra charge to you.
Car Accident Lawyers in San Bernardino County
We offer free consultations to anyone who has been injured or lost a loved one in a car accident and thinks they may have a case for personal injury or wrongful death. If you have any questions or would like to speak with an attorney before filing an insurance claim, please don't hesitate to get in touch.
Our trusted San Bernardino County car accident lawyers at Arash Law, led by Arash Khorsandi Esq., have the recognition and vast experience to advocate for accident victims, with awarded compensation totaling $400 million as of yet. Contact (888) 488-1391 or click the "Do I Have a Case?" on our website to schedule a free consultation with one of our lawyers.