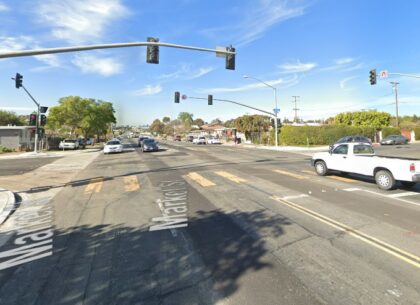 An elderly person was killed while three others were injured after a two-vehicle head-on collision in Chollas View, San Diego, on Sunday afternoon, March 05, 2023.
According to the San Diego Police Department and Fire-Rescue Department, the deadly crash occurred at about 1:00 p.m. on the 4500 block of Market Street.
The collision involved a 1993 Nissan Maxima sedan heading west that veered across the center line before colliding head-on with a 2018 Lexus RX350 SUV going east.
The rescue workers had to extricate for roughly 20 minutes the Nissan's 63-year-old driver pinned inside the wreckage. He was taken to the hospital, where he later died. His identity was withheld until the next of kin was notified.
The three occupants of the Lexus sustained minor injuries and were reportedly sent to the hospital. No further updates on their current conditions were released.
No other information was available as the SDPD Traffic Division unit looked further into what caused the fatal collision.

Fatal Two-Vehicle Accident Statistics
Car accidents are the leading cause of unintentional death and serious injury among Americans. Meanwhile, more than two million people are killed and five times that number are injured each year as a result of traffic accidents all over the world.
The National Safety Council found that in 2020, after three years of decline, traffic deaths increased by 8.3 percent. There were 39,107 fatalities caused by automobile accidents in the United States in 2019. By the year 2020, that figure had increased to 42,338.
In 2020, 3,847 Californians lost their lives in automobile collisions. Around 2,260 (or 59%) of the fatalities resulted from single-vehicle incidents, whereas 1,587 (or 41%) were the result of multiple-vehicle crashes involving two or more cars.
What to Do After a Car Accident
If you or a loved one are involved in an automobile accident, dial 911 immediately. Whether speaking with the police or an insurance company, it's in everyone's best interest to be as specific as possible and avoid making any assumptions. Innocent victims who aren't aware of the wrongdoing often apologize anyhow. Insurers may use such behavior as grounds for a claim denial.
If you would like a copy of the report, please contact the appropriate law enforcement department. It's also possible to use the form found here on the site. As soon as we have access to the report, we will begin working on your request. Your insurance claim will be reviewed at no extra cost by one of our attorneys, one of the best in the country.
Car Accident Lawyers in San Diego County
Anybody who has been hurt or lost a loved one in an automobile accident and believes they may have a case for personal injury or wrongful death is encouraged to contact us for a free consultation. Please don't hesitate to get in touch if you have any questions or would like to consult with an attorney before submitting an insurance claim.
Our trusted San Diego County car accident lawyers at Arash Law, led by Arash Khorsandi Esq., have the recognition and vast experience to advocate for accident victims, with awarded compensation totaling $400 million as of yet. Contact (888) 488-1391 or click the "Do I Have a Case?" on our website to schedule a free consultation with one of our lawyers.