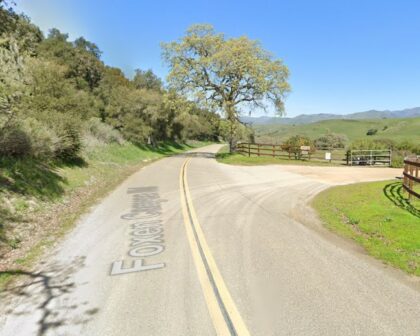 An 18-year-old male motorcyclist was killed following a collision with a vehicle southeast of Sisquoc and Santa Maria in Santa Barbara County on Sunday morning, March 05, 2023.
The Santa Barbara County Fire Department and California Highway Patrol reported that the fatal crash occurred just before 10:00 a.m. at 7600 Foxen Canyon Road, near Foxen Vineyard & Winery.
The collision involved a northbound Honda Accord driven by 42-year-old Bobbie D. from Arroyo Grande and a southbound Yamaha R6 motorcycle driven by an 18-year-old man from Santa Maria. The rider veered across the double yellow lines before colliding head-on with the Honda.
The ejected rider was given CPR before the responding firefighters pronounced him dead at the scene. He was not identified until the next of kin was notified. The Honda driver and her passenger were unharmed.
Foxen Canyon Road was closed around the site of the crash. As CHP looked further into the collision, it was determined that weather, alcohol, or drugs did not play a role.

Fatal Motorcycle Accident Statistics
In 2020, motorcyclists were responsible for 14% of all road fatalities, 18% of occupant deaths, and 4% of occupant injuries, according to data published by the National Safety Council. Less than 0.6% of all vehicle miles and 3% of all drivers were taken up by these riders. If helmets had been used, many lives could have been spared.
Between 2019 and 2020, the death toll rose by 11%, and for every 100,000,000 kilometers traveled, an extra 23% of people lost their lives. In just ten years, we saw a 20% increase in the mortality rate and a 10% increase in overall deaths. The death rate per 100 million kilometers traveled has reached 5,579 in recent years.
In the year 2020, there were over 785 thousand motorcycles registered in the state of California. Every year, some 500 motorcyclists lost their lives here, making it one of the two deadliest states in the country. Six percent of these fatalities can be attributed to not wearing a helmet.
What to Do After a Motorcycle Accident
Don't hesitate to call 911 if you or a loved one are hurt in a motorcycle accident. Whether you're talking to the police or your insurance company, it's ideal for everyone involved if you can be as specific as possible and avoid making any assumptions in your communications. Victims who aren't aware of the wrongdoing often apologize anyhow. An insurer may cite such behavior as grounds for a claim denial.
If you would like to acquire a copy of the report, please contact the appropriate law enforcement department. You can also fill out the online form in this site. As soon as we have access to the report, we'll get started on your request. At no additional cost to you, we will have one of the finest attorneys in the land review your insurance claim.
Motorcycle Accident Lawyers in Santa Barbara County
If you or a loved one has been hurt or lost their lives in a motorcycle accident in California, you should speak with a lawyer as soon as possible. You might be able to bring a claim for personal injury or wrongful death if you or a loved one were injured or killed due to another person's negligence. If you're considering submitting a claim, consult with one of our highly recognized attorneys.
Our award-winning Santa Barbara County motorcycle accident attorneys at Arash Law, led by Arash Khorsandi, Esq., have extensive experience advocating for accident victims, with awarded compensation totaling $400 million. Contact (888) 488-1391 or click the "Do I Have a Case?" on our website to schedule a free consultation with one of our lawyers.