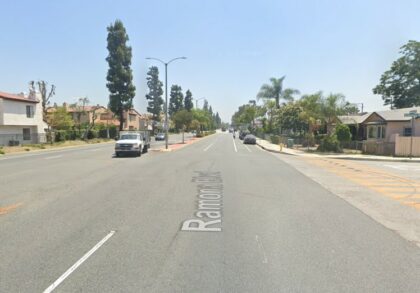 A single-vehicle crash claimed the life of a 12-year-old and injured another in Baldwin Park on Monday afternoon, March 6, 2023.
The fatal collision reportedly occurred around 2:43 p.m. on Ramona Blvd and Kenmore Avenue.
Authorities responded to the crash and discovered the driver outside the vehicle bleeding from his face and left leg.
The driver informed officers that his juvenile brother was in the vehicle's back seat.
The victim was unresponsive, and officers attempted life-saving measures, but he was pronounced dead at the scene.
Meanwhile, the driver was taken to LAC+USC Medical Center for treatment of his injuries.
Officers were attempting to determine whether or not there was a front passenger.
It was later confirmed that the vehicle occupants were from El Monte.
The collision's cause was still being investigated. Call the Baldwin Park Police Department at (626) 960-1955 if you have any information.

Fatal Single-Vehicle Crash Statistics
The Centers for Disease Control and Prevention estimates that 1.35 million people die on American roads yearly. These accidents frequently result in cyclists, motorcyclists, and pedestrians passing.
Globally, crash deaths are the eighth leading cause of death and the top cause for young children and teenagers.
Approximately 1.37 deaths occurred per 100 miles of driving in the United States in 2020. Over the same period in 2021, there were 18.4% more road deaths than in 2020.
Various factors can cause single-vehicle collisions. Run-off-the-road accidents occur when a driver loses control of their vehicle after speeding or making sudden turns on wet, slick roads. Roads may be littered with branches or objects falling from trucks.
You can reduce the chance of these accidents occurring by wearing a seatbelt, remaining vigilant, and avoiding distractions while driving. Despite precautions, individuals are still at risk of becoming involved in these unfortunate road accidents.
What Should You After an Accident Occurred?
We are aware that this is a difficult time for you. We can assist you in getting a police report after an incident.
Our team will help you obtain the report by contacting the correct people. Afterward, you can begin the claims process and seek compensation for your injuries.
Our team will handle everything, including filing your claim, so you won't need to worry. We will also ensure the responsible party's insurance company pays all of your medical bills.
Don't hesitate to reach out if you have any questions or concerns about moving forward after an accident like this.
Award-Winning Car Accident Lawyers in Baldwin Park
You must seek legal advice after a severe car accident. It is essential to get in touch with one as soon as possible. Taking action immediately after an accident increases your chances of preserving your legal rights.
A car accident attorney who has previously handled cases can ensure your claim is dealt with fairly. Your lawyer will assess the details of the accident and provide their professional opinion.
Our Baldwin Park car accident lawyers at Arash Law, led by Arash Khorsandi, Esq., are here to help you and win your case. Our contingency fee arrangement will ensure you receive compensation for your losses without paying a dime out of pocket.
Injured in a car accident? Fill out the "Do I Have a Case?" link on our website or call us at (888) 488-1391 for a free consultation.