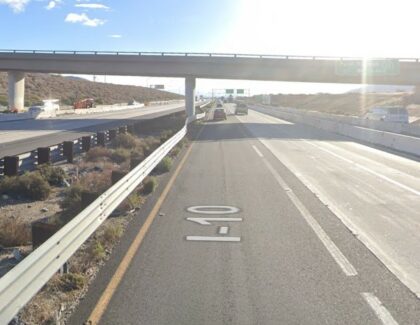 One driver complained of dizziness after a multi-vehicle crash in Riverside County on Monday morning, March 6, 2023.
According to reports, the collision occurred around 6:29 a.m. on the eastbound lanes of Interstate 10 near Haugen Lehmann Way in Whitewater.
Authorities later confirmed that two middle lanes of the eastbound freeway were closed, and there were traffic delays.
There were no immediate reports of injuries, but one driver was said to be dizzy.
A second collision in the area was also slowing traffic.
Further details on the crash are ongoing.

Multi-Vehicle Crash Statistics
The National Highway Traffic Safety Administration reported 36,560 people were injured and 33,654 died in car accidents in 2017.
There are 13,000 deaths in similar situations yearly, and one out of four traffic accidents involving multiple vehicles is fatal. Among all states, California has the highest rate of fatal car accidents.
Multi-vehicle accidents are more likely to cause property damage and severe fatal injuries than traffic accidents. People around may suffer from a lack of situational awareness or control. These crashes occur in the majority of cases.
Avoid these catastrophic accidents by paying attention to the road, monitoring your speed, and being aware of your surroundings.
What Should You Do After an Accident
When you have collected information, it is advisable to file a police report, assuming it is safe. By doing this, the police can keep records of what happened during the accident in a central database, securely in one location within the police department.
It is common for the police to attend the scene of an accident regardless of the circumstances, but if they do not, you can contact your local police and file an accident report. If the police are not on the scene at the time of the collision, they will collect that information, and a police report will be issued afterward.
Trusted Car Accident Lawyers in Riverside County
A multi-vehicle accident frequently involves multiple people being injured. Victims are often injured with severe fractures, abrasions, spinal injuries, and head injuries. The recovery from these conditions may require years of therapy and substantial hospital expenditures.
In addition to affecting one's physical health, accidents can also harm one's emotional and psychological well-being. This is why seeking legal counsel as soon as possible is paramount to avoiding difficulties in the future.
You should contact our Riverside County auto accident lawyers at Arash Law, led by Arash Khorsandi, Esq., if you have been involved in a similar accident. They specialize in dealing with these types of cases daily.
Our attorneys are dedicated to each case they handle and work hard to ensure clients receive their due compensation.
Our firm can assist you with all of your legal issues. Call (888) 488-1391 or fill out the "Do I Have a Case?" form online for a free case evaluation.