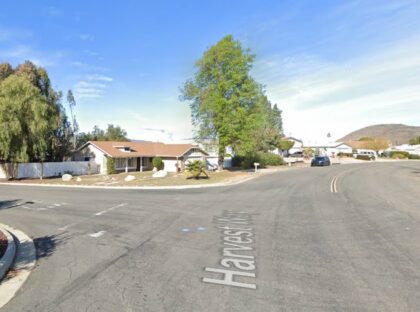 Two minors were injured, one critically, in a single-vehicle rollover crash on the east end of Wildomar on Monday afternoon, March 06, 2023.
The Riverside County Fire Department reported that the crash occurred shortly before 5:00 p.m. on a secluded trail near Rooster Road and Harvest Way.
The responding deputies and firefighters had to hike to reach the crash site, which likely involved an off-road vehicle that overturned. Two victims, both minors, were injured and transported to Inland Valley Medical Center for treatment.
One of the victims was found unconscious and with critical wounds, while the other had minor ones. No updates on their current conditions were released.
Sheriff's deputies are looking into the circumstances that led to the crash. No further information was immediately available.

Car Accident Statistics
In the year 2020, the National Safety Council reported that more and more people were killed and seriously injured in traffic-related accidents especially when speeding, drunk driving, or not wearing seatbelts were involved.
The United States saw an 8.3 percent increase in its death rate in 2020, following three years of consecutive decline. The average annual death toll due to automobile accidents was 42,338 in 2020, up from 39,107 the year before.
Almost 4.8 million people in 2020 sought medical attention at emergency rooms after suffering injuries in vehicle collisions. A staggering amount of $473.2 billion has been the cost of treating persons injured in car accidents. This cost may include lost wages, travel expenses, medical care, paperwork, vehicle repairs, and more.
What to Do After a Car Accident
If you or a family member are in a car crash, dial 911 immediately. When speaking with law enforcement or an insurance company, it is essential to supply as much detail as possible and to avoid making any assumptions.
Sometimes victims will say they're sorry even if they had nothing to do with the incident. Such actions could be used as evidence by the insurance to deny a claim.
If you would like a copy of the investigation report, please contact the department responsible for it. You can also reach us via the contact form on this page. We can go to work on your request as soon as we receive the report. You can have our well-respected attorney review your insurance claim at no extra charge.
Car Accident Lawyers in Riverside County
If you or someone you love has been hurt in a car crash and you think you may have a case for personal injury or wrongful death, please don't hesitate to call us for a free consultation. Feel free to get in touch with us if you have any concerns regarding submitting an insurance claim or would like to discuss your options with an attorney in advance.
Our trusted Riverside County car accident lawyers at Arash Law, led by Arash Khorsandi Esq., have the recognition and vast experience to advocate for accident victims, with awarded compensation totaling $400 million as of yet. Contact (888) 488-1391 or click the "Do I Have a Case?" on our website to schedule a free consultation with one of our lawyers.