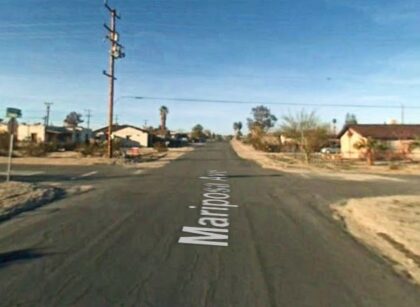 Two assault suspects were apprehended after a hit-and-run collision injured one person in Twentynine Palms on Monday, March 6, 2023.
Authorities confirmed the crash transpired after midnight in the 6400 block of Mariposa Avenue.
Deputies responded to a reported assault with a deadly weapon in the area and discovered a pickup truck fleeing the scene, hitting a bystander and causing minor injuries.
Officers chased the truck as it ran through a backyard, causing extensive damage.
The 20-year-old driver, Julian M., abandoned the truck and fled on foot before being apprehended.
An investigation revealed that Julian and 49-year-old Dennis M. pointed a realistic-looking air rifle at two victims identified as Twentynine Palms residents.
According to authorities, one of the victims knocked Julian out, and he remained at the scene of the alleged assault while Medina fled.
The suspects were arrested and booked at the Morongo Basin Jail on suspicion of multiple felonies.

Hit-And-Run Collision Statistics
The AAA Foundation for Traffic Safety reports that 680,000 people are injured or killed annually in hit-and-run accidents. In recent years, hit-and-run accidents have increased in number. A total of 24% of pedestrian deaths were due to these accidents in 2020.
Hit-and-runs occur when one vehicle collides with another and flees without stopping to aid the injured.
Furthermore, hit-and-run accidents can result in injuries due to negligence or a delay in treatment, in addition to pain and emotional distress.
Pedestrian injuries are primarily caused by distracted driving. The driver may converse with passengers, change the radio, or talk on the phone while driving. Multitasking increases your risk of missing someone crossing the street.
It is essential to wear bright clothing in certain circumstances to reduce the likelihood of an accident. This advice may lessen your chances of being involved in an accident.
What You Need To Do Following an Accident
It is always advisable to stop when involved in a vehicle collision. A hit-and-run is a severe offense under the law. If a person is killed or injured in a crash and no law enforcement officers are present, it is essential to notify the police or CHP immediately. Any occupant of a vehicle involved in a collision who was present during the incident should report the crash to the police or CHP if the driver cannot do so.
In the absence of any injuries or deaths, move your vehicle off the road. Cars not moved or removed from the street or highway may be impounded.
Trusted Hit-And-Run Accident Attorneys in Twentynine Palms
Traumatized accident victims may require significant time and effort to heal after an accident. It may result in individuals incurring high medical bills and losing their jobs.
A person injured in such an accident should seek legal counsel immediately. Damages caused by a hit-and-run driver may still be considered a liability even if they are never found.
With our legal team, you can rest assured that your case will be handled professionally and appropriately. Reckless drivers must be held accountable at all costs.
Our Twentynine Palms hit-and-run accident attorneys at Arash Law, headed by Arash Khorsandi, Esq., have a proven track record of assisting victims of hit-and-run accidents. We are committed to obtaining a favorable settlement without you having to pay anything out of pocket.
To schedule an initial consultation, call (888) 488-1391 or click the "Do I Have a Case?" link on our website.