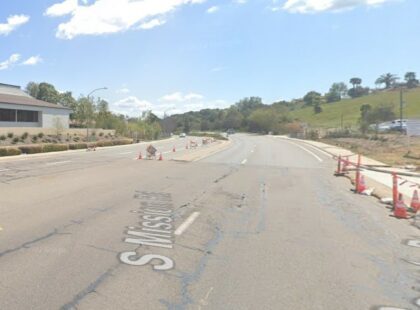 A two-vehicle crash trapped and injured one in Fallbrook, San Diego County, early Monday morning, March 6, 2023.
Reports indicated the collision occurred around 6:00 a.m. near South Mission Road and Rockycrest Road.
According to authorities, the T-bone collision involved a Toyota 4Runner and a Honda Element, trapping the driver of the Element.
The driver, who had moderate injuries, was extricated and airlifted to Palomar Medical Center.
Lanes on Mission Road were closed while crews worked to rescue the driver, slowing traffic in the area. At 6:53 a.m., the roadway was cleared entirely.
The weather has been ruled out as a factor in the accident. There is currently no additional information on what caused the crash.

Two-Vehicle Crash Statistics
In recent years, traffic fatalities have increased dramatically in the United States. Every year, over one million people are killed in car accidents. These crashes result in approximately 3,287 deaths per day.
Car accidents cause between 20 and 50 million non-fatal injuries, with many permanently disabled victims. It has been responsible for 8% of all fatal accidents in the state over the last ten years.
According to the NHTSA's Fatality and Injury Reporting System Tool, 3,322 Californians are killed in car accidents each year, and the number of these collisions has increased by 33% since 2010.
Traffic accidents cause significant financial losses to individuals, families, and nations. These expenses arise from lost productivity, medical expenses, and time away from school or work.
Stay safe on the road, maintain a safe distance from other drivers, pay attention to potential hazards, and comply with traffic laws. Traffic accidents still result in many fatalities despite these safety precautions.
What To Do After an Accident
We can help you in obtaining a police report following an accident.
The only thing we need from you is the details of what happened and where it took place. Our team will contact the relevant parties and get you all the necessary information.
With our help, you don't have to worry about whether or not your insurance will cover any damage or injuries—we'll make sure that everything is covered!
Trusted Car Accident Lawyers in San Diego County
In car accidents, victims often die or suffer serious injuries. The force of the impact can cause lacerations, broken bones, lacerations, head injuries, spinal injuries, and head injuries.
A car accident may leave you wondering how much your claim is worth. This is especially true when there are significant medical expenses and lost wages.
These collisions involve complicated situations that result in personal injuries. Determining what caused a crash could take days or months. The investigation team must identify and focus on the many factors contributing to the accident.
Our San Diego car accident lawyers at Arash Law, headed by Arash Khorsandi, Esq., have recovered $400,000,000 for clients injured in these collisions. Regardless of the accident's causes, liable parties, legal requirements, or injuries, we have the knowledge and experience to win your case.
Throughout the process, we can help you protect your legal rights. Call (888) 488-1391 or fill out our "Do I Have a Case?" form for assistance in recovering significant financial benefits.