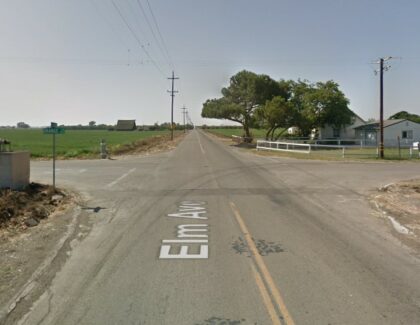 Three people were killed while two others were injured after a two-vehicle collision in Stanislaus County on Monday afternoon, March 06, 2023.
The California Highway Patrol reported that the fatal crash occurred at about 2:20 p.m. at the intersection of Orange and Elm avenues, east of Patterson.
A Ram pickup truck was heading east on Orange, which has a stop sign at the intersection, when the driver reportedly failed to give way to a Dodge SUV traveling south on Elm, which does not have a stop sign.
The pickup drove directly into the SUV's path; the SUV then struck head-on the pickup's left side. Both cars went off the intersection's southeast side and turned to their left sides.
The SUV's three occupants, two unidentified adult men and a woman, died on the spot. The pickup driver, 20-year-old Mario E. from Crows Landing, and his passenger, 20-year-old Amy G. from Ceres, were sent to Doctors Medical Center with minor injuries.
Though the deadly collision remains under investigation, the damage inflicted to both cars and where they came to rest indicated that the pickup driver likely did not stop.
It is currently unknown whether drugs or alcohol played a role. Seat belts will also be examined to see whether they were fastened during the crash.

Fatal Two-Vehicle Accident Statistics
The majority of unintentional deaths and injuries in the United States are the result of automobile collisions. Globally, more than ten million people are injured and over two million are killed in traffic-related incidents every year.
There was a rise of 8.3 percent in traffic fatalities in 2020, according to the National Safety Council, following three years of decline. There were 39,107 fatalities caused by automobile accidents in the United States in 2019. The number increased to 42,338 in 2020.
There were 3,847 traffic-related fatalities in California in 2020. A total of 2,260 individuals were killed in single-vehicle accidents (59% of all traffic fatalities), while 1,587 were killed in accidents involving two or more vehicles (41%).
What to Do After a Car Accident
Get in touch with 911 immediately if you or a loved one are involved in a car crash. It's crucial to avoid making any assumptions and provide as much detail as possible when communicating with the authorities or an insurance company. Victims may apologize even though they had nothing to do with what happened. The insurer may use such behavior against a claim.
Get in touch with the division that oversaw the inquiry if you'd like a copy of the report. Also, you can use the form on this page to get in touch with us. After we get the report, we can start working on your request. Our reputed lawyer will analyze your insurance claim at no cost to you.
Car Accident Lawyers in Stanislaus County
Anybody who has been hurt or lost a loved one in an automobile accident and believes they may have a case is entitled to a free consultation with an experienced personal injury or wrongful death attorney. Please don't hesitate to contact us if you have any questions about making a claim or would like to consult with an attorney before doing so.
Our trusted Stanislaus County car accident lawyers at Arash Law, led by Arash Khorsandi Esq., have the recognition and vast experience to advocate for accident victims, with awarded compensation totaling $400 million as of yet. Contact (888) 488-1391 or click the "Do I Have a Case?" on our website to schedule a free consultation with one of our lawyers.